The Bulls have opened up contract extension negotiations with center Nikola Vucevic, according to Shams Charania of The Athletic, who reports that the two sides have mutual interest in working out a new deal.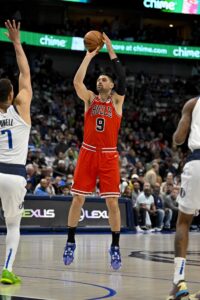 Vucevic is headed for unrestricted free agency in a month, but remains eligible to sign an extension with the Bulls between now and June 30, before he officially reaches the open market.
Certain extension-eligible players who are on track for free agency, such as Jerami Grant and Fred VanVleet, are unlikely to reach deals with their respective teams by June 30 because the current limits on veteran extensions – including a starting salary worth up to 120% of the player's previous salary – don't allow for the sort of contracts they may receive in free agency.
That's probably not the case for Vucevic though. If he were to sign a veteran extension, he could receive a starting salary worth up to $26.4MM on a deal that covers as many as four years. The 32-year-old seems unlikely to exceed either of those figures in free agency, so it makes sense that he and the Bulls will see if they can come to terms in the coming weeks.
A two-time All-Star, Vucevic has seen his production dip a little since being traded from Orlando to Chicago in 2021, but put up solid numbers in 2022/23. Starting all 82 games for the Bulls, he registered 17.6 points, 11.0 rebounds, and 3.2 assists per contest, matching his exact averages from '21/22. He scored more efficiently this past season than he did a year ago, bumping his shooting line to .520/.349/.835.
It would be difficult for the Bulls to open up meaningful cap room to replace Vucevic in free agency if he were to leave outright, so it's no surprise that the team is exploring whether it will be possible to retain the big man at a reasonable price. If the two sides don't reach an agreement by June 30, Vucevic will be one of the top available centers on the free agent market.