The Lakers' Austin Reaves is an impending restricted free agent, and the second-year guard is expected to receive "interest and potential offer sheets" from "several" cap space teams this offseason, multiple team and league sources tell Jovan Buha of The Athletic.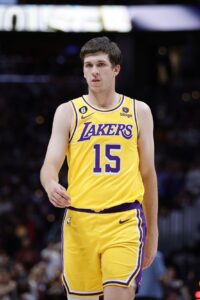 However, Buha is the latest reporter to say the Lakers plan to match possible offer sheets for both Reaves and fourth-year forward Rui Hachimura, another restricted free agent. Buha actually goes a step further, as his sources say the Lakers would match anything up to those players' maximum salaries.
L.A. only has Reaves' Early Bird rights, so his max from a rival team would be a back-loaded deal worth approximately $100MM+ over four years. Hachimura's max over four seasons would be worth about $144MM. Those projections are based on a $134MM cap.
I wouldn't be totally shocked if Reaves, who has said he wants to stay with the Lakers, got his full max offer sheet from a rival team that really likes him and wouldn't mind putting the squeeze on the Lakers at the same time. The reason I say that is because, for the Lakers' purposes, he would be making about $37.5MM annually over the final two seasons.
On the other hand, a potential offer sheet team with cap space would be paying Reaves about $25MM for each of the four years. While a rival can offer $100MM across four years, the Lakers can only directly offer about $52MM over four years, but they can match any offer sheet up to his max.
[RELATED: Hoops Rumors Glossary: Gilbert Arenas Provision]
For a point of reference, such a deal would be comparable to the contracts signed by Anfernee Simons (four years, $100MM) and Jalen Brunson (four years, $104MM) last summer. I'm not sure how likely it is Reaves actually gets an offer that high, but still.
Reaves, who turns 25 next week, averaged 13.0 PPG, 3.0 RPG and 3.4 APG on .529/.398/.864 shooting line in 64 regular season games in 2022/23 (22 starts, 28.8 MPG).
Interestingly, it turned out he was the perhaps the primary beneficiary of the Russell Westbrook trade, as his production and usage continued to rise after the move. Reaves averaged 16.5 PPG, 3.0 RPG and 5.0 APG on an elite .577/.456/.843 shooting line over the last 27 games (29.5 MPG) of the regular season, with the Lakers going 18-9 over that span despite LeBron James being sidelined for 13 contests (they went 8-5 without him).
Reaves was the team's third-best player in the postseason as well, bolstering his averages with 16.9 PPG, 4.4 RPG and 4.6 APG. His efficiency dropped a bit, but he still shot an excellent .464/.443/.895 over the Lakers' 16 playoff games (36.2 MPG).
Hachimura was acquired in January from the Wizards. He averaged 9.6 PPG and 4.7 RPG on .485/.296/.721 shooting in 33 regular season games with the Lakers (22.4 MPG), and followed that up with a scorching-hot postseason, averaging 12.2 PPG and 3.6 RPG on .557/.387/.882 shooting in 16 games (24.3 MPG). I'd be more surprised if Hachimura signs an offer sheet simply because the Lakers can offer more money and potentially more years than a rival team can, which isn't the case with Reaves.