Joel Embiid has been named the league's Most Valuable Player, according to the NBA (Twitter link).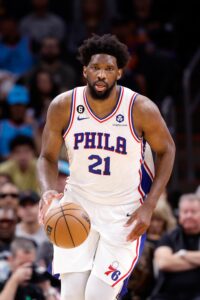 The Sixers center surged during the second half of the season and topped Nuggets center Nikola Jokic, who won the award the past two seasons, and Bucks forward Giannis Antetokounmpo, who captured the league's most prestigious individual award in 2019 and 2020.
Embiid, the third overall pick of the 2014 draft, led Philadelphia to the Eastern Conference's third-best record while topping the league in scoring at 33.1 points per game. He also averaged 10.2 rebounds and 4.2 assists in 66 regular-season games.
Jokic, who was considered the frontrunner a majority of the season, averaged 24.5 points, 11.8 rebounds and a career-best 9.8 assists in 69 games while leading Denver to the Western Conference's top seed. Jokic's assist average ranked fourth in the league, an unusual feat for a center.
Antetokounmpo led the Bucks to the league's best record by averaging 31.1 points (fifth in the league), 11.8 rebounds and 5.7 assists in 63 games. Milwaukee's superstar tied for third in the league in rebounding with Jokic.
The votes were based only on the regular season, so Milwaukee's first-round playoff exit had no bearing on the voting.
Considering the MVP debate raged throughout the season, it was a little surprising that Embiid won by such a wide margin. He picked up 73 of the 100 first-place votes, while Jokic received 15 and Antetokounmpo got the other 12.
Overall, Embiid had 915 points with Jokic in second place (674 points) and the Bucks star in third (606). The Celtics' Jayson Tatum received most of the fourth-place votes and the Thunder's Shai Gilgeous-Alexander finished fifth.
Donovan Mitchell, Domantas Sabonis, Luka Doncic, Stephen Curry, Jimmy Butler, De'Aaron Fox, Jalen Brunson, and Ja Morant also received at least one vote apiece.
Embiid is the first Sixers player to win the award since Allen Iverson (2000-01).