Center Deandre Ayton (ribs) and point guard Chris Paul (groin) were inactive for the final game of Phoenix's season on Thursday night, and it's possible they've played in a Suns uniform for the last time, writes Tim MacMahon of ESPN.com.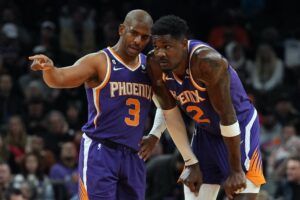 According to MacMahon, who cites league sources, the Suns are expected to "aggressively" explore Ayton's trade market this offseason. Sources tell ESPN that the former No. 1 overall pick would be excited by the opportunity to get a fresh start with another team.
Ayton reached restricted free agency last summer after he logged a playoff-low 17 minutes and had a sideline confrontation with head coach Monty Williams during the Suns' final game of the postseason, a 33-point home loss to Dallas. The big man signed a four-year, maximum-salary offer sheet with the Pacers, and was said to be keen on the idea of teaming up with Tyrese Haliburton in Indiana, but the Suns quickly matched that offer in order to retain him.
Sources tell MacMahon that Williams and some Suns players have been frustrated at times with "what they perceive to be inconsistent effort and aggression" from Ayton. Sean Deveney of Heavy.com has also heard that the center will likely be on the trade block this offseason.
"It's almost certain they will look into trading him," one general manager told Deveney. "I think they feel like they can do all right with a mishmash of decent centers and changing their focus on getting better talent around those two star guys. That's been true for the past couple of years, really. Deandre has butted heads with Monty. But he can be a great player, still, it just needs to be somewhere else."
Executives who spoke to Heavy.com speculated that the Bulls, Mavericks, Trail Blazers, and Hornets could be potential Ayton suitors.
The belief is that the Suns would be targeting ball-handlers, shooters, and/or three-and-D type players in any Ayton deal, rather than another big-money center, Deveney adds. MacMahon conveys a similar sentiment, writing that Phoenix would like to lessen the burden on Kevin Durant and Devin Booker by adding role players who complement them rather than a third star.
According to MacMahon, there's also an expectation that Paul will be shopped before the Suns have to make a decision on his contract for 2023/24. Currently, only $15.8MM of the veteran's $30.8MM salary is guaranteed.
In addition to mentioning this possibility in his ESPN.com story, MacMahon stated in stronger terms on the Hoop Collective podcast with Brian Windhorst that he expects Paul's name to pop up in trade rumors.
"I certainly would anticipate they aggressively shop Chris Paul before that June 28 (salary guarantee) deadline," MacMahon said. "I think it's pretty likely that Chris Paul is elsewhere next year."
As for a possible head coaching change or front office shakeup in Phoenix, there's no solid reporting yet suggesting either will happen, but sources with other teams have speculated about the idea, MacMahon writes, noting that one scout told him when the Suns were down by 30 points at halftime on Thursday, "Some heads are going to roll for this one."
Williams and GM James Jones have strong résumés and have helped rebuild the culture in Phoenix following several years in the lottery, but the team has now had two embarrassing playoff exits in a row and has a new owner (Mat Ishbia) who may be looking to put his stamp on the franchise.