JUNE 2: In a lengthy press release, the Pistons announced that Williams is officially the team's new head coach. The Pistons also described how the agreement came to pass.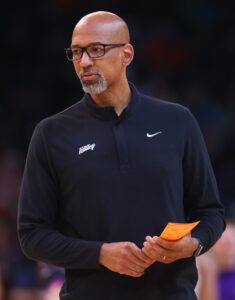 "I couldn't be more proud to have Monty joining us at this important time to lead us into the next decade of our future," said Gores. "He embodies all of the qualities we want in a leader for our Pistons franchise, and most importantly a teacher and mentor for our players. He will have an impact on every aspect of our franchise, on and off the court.
"After spending some time with Monty, it's clear that he's found a unique balance between achieving victory at the highest level while at the same time nurturing a culture of growth, development and inspiration. I'm beyond excited. This is a huge win for us."
---
MAY 31: Monty Williams has reached an agreement to become the next head coach of the Pistons, tweets Shams Charania of The Athletic. The former Suns coach will receive a six-year contract and the deal is expected to be finalized within a few days, sources tell Charania.
ESPN's Adrian Wojnarowski reports Williams' salary as $78.5MM, which makes it the largest coaching contract in league history (Twitter link).
The agreement also includes two additional team option years and could reach $100MM with incentives, according to Vincent Goodwill of Yahoo. Owner Tom Gores was heavily involved in the recruitment of Williams, Goodwill adds, as was general manager Troy Weaver, who worked with Williams in Oklahoma City.
Williams rejected Detroit's initial interest and had planned to take a year off before coaching again. However, Gores remained in contact with Williams and was able to get him to reconsider, Goodwill writes. The team prepared an offer and negotiations began over the weekend, sources tell Goodwill, adding that Gores and Williams held their first meeting Sunday night in Los Angeles.
The Pistons began an interview process shortly after Dwane Casey resigned to take a management role after the regular season ended. Former Overtime Elite head coach Kevin Ollie, Bucks assistant Charles Lee, and Pelicans assistant Jarron Collins were reported as the three finalists for the position way back on April 21, but the Pistons waited to see if a more experienced coach would become available.
With a young roster highlighted by former overall No. 1 pick Cade Cunningham, the Pistons are hoping that Williams can transform them the same way he turned around Phoenix after arriving in 2019. Williams took the Suns to the NBA Finals in 2021 and compiled a 194-115 record in four seasons, but new owner Mat Ishbia opted to make a coaching change after a second straight disappointing playoff exit.