The Nuggets secured their first championship on Monday night, completing a 4-1 series victory over the Heat with a 94-89 victory. The Nuggets joined the NBA in 1976 after the league's merger with the ABA.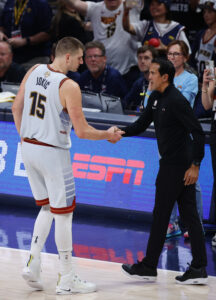 Nikola Jokic, the league's two-time Most Valuable Player in the regular season, was named the MVP of the Finals, NBA Communications tweets. He had 28 points, 16 rebounds and four assists in the clinching victory. For the series, Jokic averaged 30.2 points, 14.0 rebounds and 7.2 assists per night.
Jokic and the team's other star, Jamal Murray, carried the Nuggets throughout the playoffs. However, the team's role players made some of the biggest plays in Game 5.
Bruce Brown had the go-ahead put-back in the late going and hit clinching free throws. In between, Kentavious Caldwell-Pope had a key steal and made two clutch free throws.
Denver is well-positioned to make a run at back-to-back titles and beyond. Jokic, Murray, Aaron Gordon and Michael Porter Jr. are all signed through at least the 2024/25 season. Caldwell-Pope has two more years left on his contract, though he can opt out next summer.
There's a good chance Brown will go elsewhere. He will almost certainly decline his $6.8MM option and the team doesn't own his Bird rights, limiting its ability to offer much of a raise.
Jeff Green and a handful of other veteran reserves will be unrestricted free agents, though the Nuggets have some quality young players on rookie contracts poised to take on bigger roles, including Christian Braun and Peyton Watson.
The Heat have some key players entering free agency, most notably Gabe Vincent, Max Strus and Kevin Love.
With the Finals decided, the 2023 NBA offseason is officially underway. The draft will be held in 10 days with free agency beginning the following week.