JUNE 1: The Sixers have officially hired Nurse as their head coach, the team announced in a press release.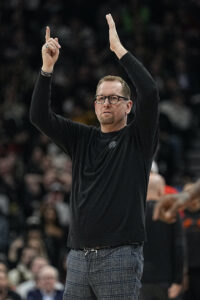 "It's been a fun challenge coaching against this group over the last five years. Now, I look forward to coaching the Sixers and doing my part to deliver for this tremendous fanbase," Nurse said in a statement.
Majority owner and managing partner Josh Harris and president of basketball operations Daryl Morey also commented on hiring the former Raptors coach.
"Nick has solidified himself as one of the NBA's best coaches and I'm excited to welcome him to Philadelphia," Harris said. "Throughout his career, he has won at multiple levels, including on the biggest stage when he led Toronto to the 2019 NBA title. He is a smart, innovative and determined coach who really stood out in this process. No matter the hurdles we've faced, our goal remains to bring a championship to Philadelphia and Nick is the right coach to lead us forward."
"We are absolutely thrilled to welcome Nick Nurse as the new head coach of the Philadelphia 76ers," Morey added. "His championship pedigree and diversity of experience mixed with his uniquely creative approach made him our top priority. We are confident that his leadership and expertise will help us unlock the full potential of our talented roster and bring an exciting new era of championship basketball to Philadelphia."
---
MAY 29: The Sixers are hiring Nick Nurse to be their new head coach, sources tell ESPN's Adrian Wojnarowski (Twitter link).
Nurse, who won a championship with the Raptors in 2018/19, his debut season as an NBA head coach, was dismissed after his fifth season at the helm. Toronto went 41-41 this past season and was eliminated in the play-in tournament.
The 55-year-old holds a career regular season record of 227-163 (.582 winning percentage), as well as 25-16 (.610) in the postseason. The Raptors made the playoffs in three of his five seasons.
Marc Stein first reported that there was growing buzz linking Nurse to Philadelphia. Gina Mizell of The Philadelphia Inquirer has confirmed Wojnarowski's report (via Twitter).
Nurse was also a finalist for the head coaching vacancies in Milwaukee and Phoenix, but he reportedly withdrew from consideration for the Bucks job. Milwaukee is hiring his former assistant, Adrian Griffin.
There was speculation that Nurse may have secured an offer — or multiple offers — after withdrawing from Milwaukee's search. He ultimately chose the Sixers, who had an opening after firing Doc Rivers following another second-round playoff exit.
Nurse is entering the fray as James Harden is expected to decline his player option in search of a long-term deal. Multiple reports have linked Harden to Houston.