As potential suitors get in touch with the Wizards about Bradley Beal, the team's new-look front office – led by president Michael Winger – is staying in "close contact" with Beal's agent Mark Bartelstein to discuss potential trade scenarios, reports Adrian Wojnarowski of ESPN.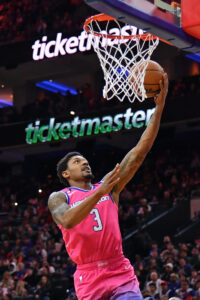 According to Shams Charania and Josh Robbins of The Athletic, the Wizards and Beal have an understanding that they'll work together to find a deal that sends the three-time All-Star to a contender if the team decides to rebuild its roster.
The reports from ESPN and The Athletic don't come as a real surprise. When Winger was named the Wizards' new head of basketball operations last month, reports indicated that team owner Ted Leonsis was open to a rebuild if that's the path that Winger wanted to take. And given that Beal is the only NBA player with a full no-trade clause, the team would have no choice but to work with the 29-year-old and his camp if it wants to deal him as part of a roster reset.
According to both Wojnarowski and The Athletic's duo, it remains unclear whether Winger will decide to reshape Washington's roster, so there's no guarantee that Beal will be on the move this offseason. But the two sides intend to work amicably on next steps, per The Athletic. Discussions about Beal's future in D.C. are expected to become more frequent in the coming weeks, sources tell ESPN.
Beal's value will be limited not just by his no-trade clause, which allows him to essentially choose his new team, but by his recent injury history, his dip in production, and his massive contract.
The former third overall pick has played just 90 games across the last two seasons and has seen his scoring average dip to 23.2 points per game during that time (he averaged 31.3 PPG in 2020/21). However, he signed a maximum-salary contract as a free agent last summer and is owed nearly $208MM over the next four years. He also has a 15% trade kicker, though his salary in 2023/24 will likely be above the league-wide max, so that kicker wouldn't be applied.
During a TV appearance on Wednesday (YouTube link), ESPN's Brian Windhorst said he thinks the return in any trade involving Beal would surprise people based on how low it might be. As Windhorst points out, Beal's no-trade clause doesn't just let him pick his landing spot — it also lets him approve the package he gets dealt for, since he'd have veto power if he thinks his new team is giving up too much.
Miami and Philadelphia are among the teams that have been linked to Beal in the past, and the Heat are expected to be a "prominent" suitor for him if he's available this summer, per Charania and Robbins. Previous reporting indicated that the Heat are prepared to peruse the trade market in search of a star in the coming weeks.
In addition to Beal, a pair of other key Wizards players have uncertain futures in D.C. Both Kyle Kuzma ($13MM) and Kristaps Porzingis ($36MM) hold players options for 2023/24. Kuzma is considered a lock to opt out and become a free agent, while Porzingis' decision is TBD.