Free agent wing Davon Reed has signed with Prometey BC, the team announced on Instagram (hat tip to Dario Skerletic of Sportando). Former Hornets forward Arnoldas Kulboka will also be joining the Ukrainian club, sources tell Donatas Urbonas of BasketNews.com (Twitter link).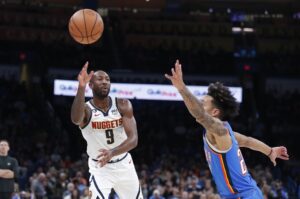 The 32nd pick of the 2017 draft out of Miami, Reed spend his rookie season with the Suns, who released him prior to the 2018/19 season. He caught on with the Pacers on a two-way deal before spending the next couple seasons in the G League and playing international ball in Taiwan.
Reed returned to the NBA in '21/22 on a two-way deal with the Nuggets, having a solid season as a 3-and-D bench member, averaging 4.4 PPG and 2.3 RPG on .503/.430/.667 shooting in 48 games (13.9 MPG). Last summer, he signed a two-year contract for the veteran's minimum to return to Denver, but only the first year was guaranteed.
The 28-year-old saw his minutes reduced in '22/23 with the additions of Kentavious Caldwell-Pope, Bruce Brown and Christian Braun, as Reed averaged just 9.0 MPG in 35 games for the Nuggets. He was sent to the Lakers at the February trade deadline, and was subsequently waived on the last day of the regular season.
According to Prometey BC, Nuggets players insisted that Reed be given a championship ring after Denver won its first title last month. The Ukrainian side also said Reed drew EuroLeague interest this summer, but no deals came to fruition due to his lack of experience in Europe.
Due to the ongoing war in Ukraine, Prometey BC, also known as Prometey Slobozhanske, spent last season playing in the Latvian-Estonian Basketball League, which will continue in '23/24. The team finished first in its group during the '22/23 EuroCup competition, ultimately losing in the semifinal.
Kulboka, another former second-round pick who has spent most of his career in Europe, appeared in two games with Charlotte in '21/22 on a two-way deal. The Hornets didn't give him a qualifying offer last summer, making him an unrestricted free agent, and he signed a one-year deal with Greece's Promitheas Patras.
The Lithuanian guard/forward averaged 14.9 PPG and 6.0 RPG on .453/.426/.800 shooting in 18 EuroCup games last season.