JULY 6: The trade is official, the Nets and Pistons confirmed in a pair of press releases. Detroit received Harris, the Mavericks' 2027 second-round pick, and the Bucks' 2029 second-rounder from Brooklyn in exchange for cash ($110K).
---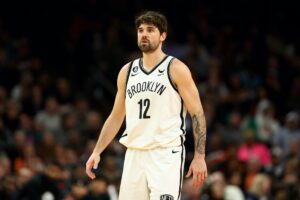 JUNE 30: The Nets have reached an agreement on a trade that will send Joe Harris to the Pistons, reports Shams Charania of The Athletic (Twitter link).
According to ESPN's Adrian Wojnarowski (Twitter links), Brooklyn will also send two second-round picks to Detroit in the deal and will generate a traded player exception worth $19.9MM, the amount of Harris' 2023/24 salary.
The picks being acquired by the Pistons are the Mavericks' 2027 second-rounder and the Bucks' 2029 second-rounder, per Charania (Twitter link).
No players are going from Detroit to Brooklyn in the trade, tweets James L. Edwards III of The Athletic. The Pistons are instead sending the Nets $110K to complete the deal, per Edwards (Twitter link). That's the minimum amount of cash a team can include in a trade.
While the deal looks like a simple salary dump on the surface, it's a fascinating agreement that will have a major ripple effect on both teams' offseasons. The Pistons had frequently been cited as a potential suitor for Nets restricted free agent Cameron Johnson in the weeks leading up to free agency and there had been a belief that they could make life difficult on Brooklyn by signing the forward to a lucrative offer sheet.
By convincing the Pistons to take Harris instead, the Nets will gain more financial flexibility to re-sign Johnson and stay out of luxury tax territory. They also may take their biggest competitor for Johnson's services out of the mix, since Harris will take up a significant chunk of Detroit's cap room and will reduce the need for the Pistons to go out and acquire another sharpshooter.
It's not a bad arrangement from the Pistons' perspective either. Rather than potentially overpaying Johnson on a four-year, nine-figure offer sheet and hoping the Nets won't match it, they'll get one of the NBA's best outside shooters on a short-term contract, retaining long-term flexibility and picking up a pair of future second-rounders in the process.
[UPDATE: Nets, Cameron Johnson agree to four-year deal]
Injuries limited Harris to just 14 games in 2021/22, and he played a reduced role when he returned to action this past season, averaging just 20.6 minutes per game, his lowest mark since '15/16. However, he remains as effective as ever from beyond the arc, knocking down 42.6% of his three-point attempts in 74 games last season. He has now hit at least 42.4% of his threes in five straight seasons, leading the NBA in three-point percentage twice during that time.