Timberwolves point guard Mike Conley has won the Sportsmanship Award for the 2022/23 season, the NBA announced in a press release.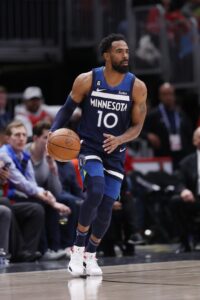 According to the NBA, each of the league's 30 teams nominated one of its players for the award. It was then narrowed down to six finalists — one from each division — by a panel of league executives. Finally, current players voted for the winner.
As the full voting results show, Conley narrowly edged Boban Marjanovic for his fourth award, which is the most in league history — he had previously been tied with Grant Hill at three apiece. The annual award is "designed to honor a player who best represents the ideals of sportsmanship on the court," per the NBA.
The other four finalists, listed in order of the voting results, were Darius Garland, Bam Adebayo, Harrison Barnes and Jalen Brunson.
Conley, 35, appeared in 67 games for Utah and Minnesota in '22/23, having been traded in February. The steady veteran averaged a combined 11.9 PPG, 6.7 APG, 2.7 RPG and 1.1 SPG on .428/.385/.834 shooting in 30.3 MPG.
The Sportsmanship Award trophy is named after Joe Dumars, the Hall-of-Fame guard who won the inaugural award back in '95/96.