James Harden has fired the first salvo in his battle with Sixers management, per Shams Charania of The Athletic (video link). Harden, who's on a marketing tour for Adidas, blasted president of basketball operations Daryl Morey during an event in China and vowed never to play for him again.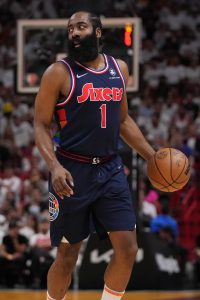 "Daryl Morey is a liar and I will never be a part of an organization that he's a part of," Harden told the crowd. "Let me say that again: Daryl Morey is a liar and I will never be a part of an organization that he's a part of."
Harden and Morey have a long working relationship, dating back to when Morey brought him to Houston as general manager of the Rockets in a 2012 trade. Morey was thrilled to reacquire Harden in a 2022 deal, driving to the airport to pick him up when he arrived in Philadelphia.
Things began to sour as Harden approached the deadline for his decision on a $35.6MM option for 2023/24. After signing for well below market value last summer to help the Sixers build up their roster, Harden was expecting a generous, long-term offer from the team. However, once Houston elected not to pursue him, Harden didn't have another bidder and he wasn't happy with what Morey and the 76ers were offering.
Instead of testing free agency, Harden picked up the option in late June and demanded to be traded. The Clippers were reportedly his first choice, but Philadelphia and L.A. weren't able to make much progress in trade talks.
The situation has been quiet for several weeks, but it heated up Saturday night when the Sixers leaked a report to ESPN's Adrian Wojnarowski that they have ceased trade talks involving Harden. Harden's camp responded by stating that his decision to leave the organization is firm and he's prepared to hold out of training camp if he's not traded.
Harden is set to become a free agent next summer, but he risks that status if he chooses not to report to the Sixers, notes Bobby Marks of ESPN (Twitter link). Under the current Collective Bargaining Agreement, a player withholding services from his team for more than 30 days "shall be deemed not to have "complet[ed] his Player Contract by rendering the playing services called for thereunder." That means Harden couldn't sign with another team in 2024 without the Sixers' consent.
As several writers have noted, Harden has a history of making things uncomfortable after submitting trade requests in Houston and Brooklyn. He appears to be pursuing the same strategy with Philadelphia, and today's comments could be the start of a long, bitter standoff.