The Sixers have halted trade talks involving James Harden and plan to have him on the roster when training camp opens, according to ESPN's Adrian Wojnarowski (Twitter link).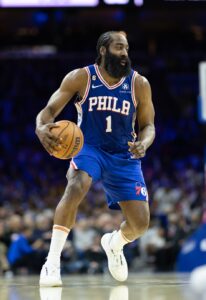 Sources tell Wojnarowski that Philadelphia had discussions with the Clippers, who are Harden's preferred destination, but the teams weren't able to make any progress toward a deal.
Harden and the Sixers' front office agreed to work together to find a trade when he picked up his $35.6MM option for next season. However, team officials believe Harden gives them a chance to win a title and they don't want to break up a potential championship roster, according to Wojnarowski's sources.
Woj adds that Harden has remained insistent about a trade, so there could be an "uncomfortable situation" when training camp opens. There's precedent for that, as Harden forced his way out of Houston and Brooklyn before arriving in Philadelphia. Even so, management isn't willing to part with him unless the Sixers receive similar value in return.
Harden is a former MVP and a 10-time All-Star, and the Clippers don't have anyone of that stature unless they give up Kawhi Leonard or Paul George, which they haven't shown any willingness to do.
A more likely offer would include veterans such as Marcus Morris ($17.1MM), Nicolas Batum ($11.7MM) and Robert Covington ($11.7MM), whose expiring contracts could help match Harden's salary, along with a young player or two and draft assets.
A report last month said L.A. has been reluctant to include guard Terance Mann in any offer for Harden.