SEPTEMBER 12: The Cavaliers have officially signed Thompson, per NBA.com's transaction log. His deal includes a partial guarantee, tweets John Hollinger of The Athletic.
---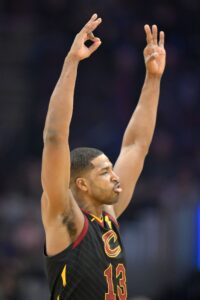 SEPTEMBER 11: The Cavaliers are finalizing a contract with free agent big man Tristan Thompson, reports Shams Charania of The Athletic (Twitter link).
It will be a reunion between the two sides, as Thompson spent his first nine NBA seasons in Cleveland after the team selected him fourth overall in the 2011 draft. The 32-year-old was a key member of the Cavs' championship run in 2016, starting all 21 playoff games and averaging 6.7 points and 9.0 rebounds while playing solid defense.
It would be shocking if Thompson received anything but a one-year deal for the veteran's minimum, considering he barely played at all in 2022/23. He signed with the Lakers on the final day of the regular season, appearing in six of the team's 16 playoff games for 32 total minutes.
Chris Fedor of Cleveland.com confirms Charania's report (via Twitter), noting that the Cavs currently only have 13 players on standard contracts. Teams are required to carry at least 14 players for the majority of the season, so it seems Thompson will hold that spot for now.
Thompson averaged 9.4 points and 8.7 boards over his 619 regular season games with Cleveland. He signed a two-year deal Boston as a free agent in 2020, but only lasted one year, having been traded in August 2021. He played for three different teams — Sacramento, Indiana and Chicago — in '21/22.
We'll have to wait and see if Thompson receives any guaranteed money from the Cavaliers. His level of play has certainly dropped off in recent years, but he had some good moments during his brief stint with the Lakers, and he'll provide frontcourt depth and veteran leadership for Cleveland.
Once Thompson's deal is complete, the Cavs will have 17 players under contract, with all three two-way slots filled.