Sharpshooter Klay Thompson has spent his entire career with the Warriors, winning four championships and earning five All-Star nods in his 10 active seasons (he missed 2019-21 due a torn ACL and a torn Achilles tendon). He's entering the final year of his contract, which will pay him $43.2MM in 2023/24.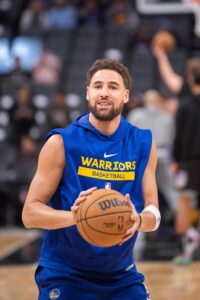 Appearing on a podcast with The Athletic's Tim Kawakami, owner Joe Lacob was asked if he expects Thompson, who is eligible for an extension, to remain with Golden State beyond the upcoming season.
"I do," Lacob said. "We've had some very brief discussions at this point with his agent. But they're very, very early. … I fully expect that we'll have some substantial discussions soon sometime and we'll see if we can't put something together that allows Klay to be here for a long time, which we clearly would like him to be."
As Kawakami points out, both Draymond Green and Andrew Wiggins took pay cuts in order to sign long-term deals with the Warriors, and Thompson will almost certainly have to as well due to the club's massive payroll and luxury tax situation.
"Look, it's August and there's plenty of time to work all this out," Lacob told Kawakami. "His contract doesn't expire until next year. We love him and I know he knows we love him. And we're going to try to do something here for the rest of his career."
Based on Lacob's statements, Kawakami believes the two sides will work out an extension before the season begins. Thompson is eligible to add four years onto his current deal, up to his maximum salary.
Thompson, 33, averaged 21.9 points, 4.1 rebounds and 2.4 assists on .436/.412/.879 shooting in 69 regular season games (33.0 minutes) in '22/23. In his first full season back from the major injuries, he struggled somewhat in the playoffs, posting a .388/.368/.875 shooting line in 13 games (36.0 minutes), well below his career postseason splits.
Still, the core group of Stephen Curry, Green and Thompson has had a ton of success over the past decade, and the team has been motivated to keep the core together. We'll have to wait and see if a deal comes to fruition in the coming weeks like Kawakami predicted.