Representatives for Buddy Hield will work with the Pacers to find a trade after he and the team weren't able to reach an agreement on a contract extension, reports Shams Charania of The Athletic.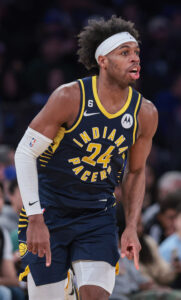 Hield hasn't placed any restrictions on where he wants to go, rival team sources tell Charania, but substantive talks aren't currently underway with anyone. The Pacers made an extension offer in the past few weeks, according to Charania's sources, but it didn't make Hield "feel desired."
Several teams are expected to have interest in Hield, who leads the NBA with 1,381 made three-pointers over the past five seasons, Charania adds. He notes that without an extension, Hield stands to become of the top names on next summer's free agent market. The 30-year-old guard has a $19.2MM expiring contract.
Hield is eligible for a renegotiation and extension, according to Yossi Gozlan of HoopsHype (Twitter link), who points out that Indiana could use its remaining 2023/24 cap space to give Hield a raise for the upcoming season, just as it did last year with Myles Turner.
The Pacers acquired Hield along with Tyrese Haliburton in a deal with the Kings at the 2022 trade deadline. He has been a fixture in the starting lineup, averaging 17.1 points, 5.0 rebounds and 3.3 assists in his season and a half with the team while shooting 45.5% from the field and 41.0% from beyond the arc.
In an interview shortly after the end of the regular season, Pacers president of basketball operations Kevin Pritchard didn't commit to offering Hield an extension during the offseason, saying the team needs to "define his role."