Both the Bulls and Zach LaVine are increasingly open to the idea of exploring a trade involving the two-time All-Star, reports Shams Charania of The Athletic. According to Charania, teams around the NBA are "probing" LaVine's possible availability.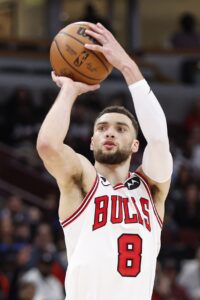 A number of executives, including many general managers, are in Chicago on Tuesday for the 2023 Champions Classic, the NCAA's annual fall showcase. Conversations about LaVine could begin there, Charania explains.
LaVine is averaging 21.9 points, 4.8 rebounds, and 3.0 assists in 35.1 minutes per game through his first 11 contests this season. The 28-year-old is off to a bit of a slow start – his .409 FG% and .309 3PT% would be career worsts – but is typically one of the NBA's best scorers, having averaged at least 23.7 PPG for five straight seasons entering this fall.
LaVine is in the second season of a five-year, maximum-salary deal with the Bulls. He's earning approximately $40MM in 2023/24 and is owed a guaranteed $89MM over the following two seasons. He holds a 2026/27 player option worth just shy of $49MM.
While the plan was for LaVine to be a key part of a Bulls roster that perennially qualified for the playoffs and contended for titles, the team has struggled to compete on a consistent basis since losing Lonzo Ball to the first in a series of knee injuries midway through the 2021/22 season.
Chicago was eliminated in the first round of the playoffs in 2022 and was knocked out in the play-in tournament in 2023 after posting a losing record (40-42) in the regular season. The club is off to a 4-7 start this fall and there have already been reports that teams are keeping an eye on the Bulls, as well as speculation that changes could be coming. Darnell Mayberry of The Athletic (Twitter link) says one league source predicted this week that Chicago will have a different roster in a month.
As K.C. Johnson of NBC Sports Chicago notes (via Twitter), the Bulls held exploratory talks on LaVine over the summer but had a high asking price at that time. It's unclear if that price might drop at all based on how the club has started this season, but the players are "very aware" that changes could be coming if they don't turn things around, says Johnson.
Besides LaVine, DeMar DeRozan could be another major trade chip for the Bulls. Charania says the franchise would ideally like to keep DeRozan beyond his current contract, which expires in 2024. However, there has been a gap between the two sides on both years and salary in their extension talks, and the 34-year-old would like to get a sense of the organization's direction before committing to a new deal, Charania adds.