With the Clippers struggling to find their footing in the wake of the James Harden trade, starting point guard Russell Westbrook has requested to move to a reserve role, league sources tell Chris Haynes of TNT and Bleacher Report.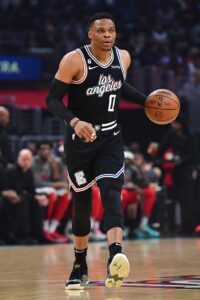 According to Haynes, the plan is for Westbrook to come off the bench for the Clippers in Friday's in-season tournament game vs. Houston, with Terance Mann getting the start in his place.
Westbrook, Harden, Kawhi Leonard, Paul George, and Ivica Zubac have started each of the five games the Clippers have played since Harden made his debut with the team. Los Angeles has lost all five of those games and has posted a -14.1 net rating in 58 minutes with that five-man group on the court.
It's a very small sample, but by comparison, that group had a +38.0 net rating in 51 minutes with Robert Covington in Harden's place prior to the trade.
Head coach Tyronn Lue has experimented with taking certain players – including Harden – off the court relatively early in the game and then bringing them back with the second unit, and some of the Clippers stars have expressed confidence that a breakthrough is close. However, having Westbrook move to the bench will allow the team to start the game with one fewer ball-dominant player on the court, which could help simplify the offensive game plan.
As Haynes writes, Westbrook brought the idea to the coaching staff, suggesting that it would put the first unit in a better position to develop some chemistry and would allow him to bring his energy to the second unit. The former MVP is the Clippers' "vocal leader" and told the coaching staff he wants to do whatever it takes to win, sources tell Haynes.
Westbrook has started every game he has played for the Clippers since signing with the team last season, but came off the bench in 49 of the 52 games he played for the Lakers in 2022/23. As Haynes points out, that move was instigated by the Lakers' coaching staff, whereas this time the idea is coming from Westbrook, who has received praise throughout the organization for the "selfless" move, sources tell Bleacher Report.