Grizzlies guard Marcus Smart is expected to miss three-to-five weeks after being diagnosed with a left foot sprain, the team announced in a press release (via Twitter).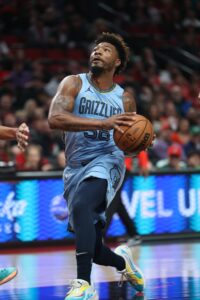 Shams Charania of The Athletic (Twitter link) first reported that Smart is expected to miss multiple weeks as a result of the injury, which occurred during Tuesday's loss to the Lakers. Smart left the game in the first quarter after landing on Austin Reaves' foot while contesting a shot (Twitter video link via Bally Sports).
Smart, 29, was acquired in a three-team trade this offseason that involved Boston and Washington. The 2021/22 Defensive Player of the Year is averaging 12.5 points, 2.5 rebounds, 5.0 assists and 2.0 steals on .429/.295/.810 shooting in 11 games this season (29.9 minutes per night).
It's a tough blow for the Grizzlies, who won 50-plus games each of the past two seasons but are currently 2-9 and rank last in the Western Conference. Injuries and a suspension have played a major part in that, and losing Smart certainly won't help matters.
Luke Kennard also left Tuesday's game early after sustaining a left knee bone bruise, and he has been ruled out for Saturday's game in San Antonio (Twitter link via the Grizzlies). The sharpshooting guard led the NBA in three-point percentage the past two seasons.
The Grizzlies are particularly shorthanded at point guard, with Ja Morant out for the first 25 games of 2023/24 after being suspended multiple times in the past year. Derrick Rose has also been out since October 30 due to a left knee injury, but he's officially listed as questionable for Saturday's game, so he may be back soon.
The frontcourt is another area of the roster that has been decimated by injuries. Steven Adams is out for the year after undergoing season-ending knee surgery, while Brandon Clarke figures to remain on the shelf for most of the season after tearing his Achilles tendon in March. Xavier Tillman has missed four of the past five games with a left knee injury, and he's out Saturday as well.
For what it's worth, the Grizzlies could qualify for a second extra roster spot via a hardship exception, but that would require four players to have missed at least three consecutive games due to an injury or illness, with an expectation they'd remain sidelined for some time beyond those three games, and they don't meet that criteria right now. Bismack Biyombo currently occupies the first extra spot after Morant was placed on the suspended list.
Two-way player Jacob Gilyard, a 5'9″ point guard, has started the past three games for Memphis and will likely continue to receive extended run until the Grizzlies get more reinforcements back.