The Suns' big three appeared to be nearing full health earlier this week, but the trio's regular season debut will be delayed until at least December. Star guard Bradley Beal is dealing with a low back strain and will be reevaluated in three weeks, the team announced today (via Twitter).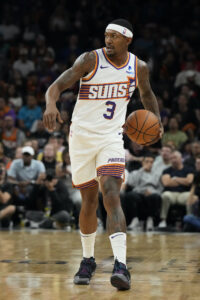 After being acquired this summer by the Suns in a blockbuster trade, Beal was forced to miss his first seven games with the club due to low back issues that were previously diagnosed as spasms. He debuted last Wednesday and appeared in three games, but admitted he aggravated the injury in Sunday's contest vs. Oklahoma City, referring to it his back "a little tight."
The initial sense was that the tweak wasn't too bad. Beal was listed as probable to play on Wednesday against Minnesota, and with Devin Booker due back from a calf strain that night, it looked like Phoenix's three stars – Beal, Booker, and Kevin Durant – would all play together for the first time this fall. However, Beal was downgraded to out in the hours before tip-off and now will require a longer layoff to rehab the injury.
Beal didn't quite look like his usual self in his first three games as a Sun, averaging 17.3 points, 5.3 rebounds, and 3.7 assists in 28.5 minutes per night with a modest .391/.333/.688 shooting line. Entering this season, he had averaged 22.1 PPG on .460/.372/.823 shooting in 695 career appearances.
Once everyone is available, the Suns are expected to have one of the NBA's most dangerous offenses, headlined by three players who typically rank among the league's top scorers. But even assuming Booker and Durant stay healthy for the foreseeable future, it will be at least a few more weeks before Phoenix is at full strength.