Every week, Hoops Rumors takes a closer look at players who will be free agents or could become free agents next offseason. We examine if their stock is rising or falling due to performance and other factors. This week, we turn our attention to the Pacific Division:
DeMarcus Cousins, Warriors, 28, C (Up) – Signed to a one-year, $5.3MM deal in 2018
Everyone was curious to see how healthy Cousins would look after returning from the Achilles injury and whether he'd fit in with the star-laden Warriors. So far, so good. Other than getting a couple nights off on back-to-backs, Cousins hasn't had any physical setbacks. He's settling in as a third or fourth option in the attack, averaging 23.3 PPG over the last three games. He's also given the Dubs a defensive presence in the middle. Cousins may not find a max deal this summer but he'll get something close to it from one of the teams with ample cap space.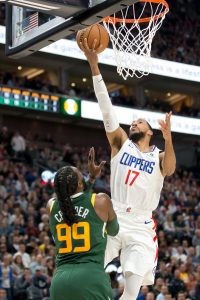 Garrett Temple, Clippers, 32, SG (Down) – Signed to a three-year, $24MM deal in 2016
The defensive specialist didn't move the needle as a starter with the Grizzlies and he was dealt to the Clippers just before the trade deadline. Temple is the No. 5 option when he's on the court but he hasn't made the most of his limited opportunities, shooting 33.9% from deep after knocking down a career-high 39.2% of his long-distance shots last season in Sacramento. Temple's age will work against him in the open market. Forget about an $8MM average in his next contract. He'll be shopping for the veteran's minimum this time around.
Rajon Rondo, Lakers, 33, PG (Down) – Signed to a one-year, $9MM deal in 2018
A strong argument can be made that Rondo's decision to sign with the Lakers ruined the season for two franchises. With Rondo at the point, the Pelicans reached the second round of the Western Conference playoffs last season. They wanted him back but he jilted them to join Los Angeles. New Orleans' season went sour, leading to Anthony Davis' trade demand. Rondo has been a poor fit with the Lakers and his PER is a well-below-average 11.7. He's played heavy minutes during the Lakers' recent slide, including a 1-for-10, four-assists, two-turnover stinker against Phoenix on Saturday.
Troy Daniels, Suns, 27, SG (Down) — Signed to a three-year, $10MM deal in 2016
Daniels is essentially a one-trick pony and he hasn't been allowed to perform it as often as he did last season. Daniels, who is playing for his fifth team, has seen his minutes drop to an average of 13.3 per game under first-year coach Igor Kokoskov with quite a few DNPs mixed in. His 3-point shooting hasn't suffered — his 40% average mirrors what he did last season when he appeared in 79 games and averaged 20.5 MPG. Daniels' shooting ability should keep him in the league a few more years but he may have to settle for one-year deal or a partially guaranteed two-year contract this summer.
Alec Burks, Kings, 27, SG (Down)– Signed to a four-year, $42MM deal in 2015
Burks was better off playing regularly on a bad team than spot minutes on an improving club in the playoff hunt. Burks flourished with Cleveland after getting dealt by Utah early in the season. He posted averages of 11.6 PPG, 5.5 RPG and 2.9 APG in 28.8 MPG with the Cavs, who then shipped him to the West Coast in a three-team swap. Burks has done next to nothing with Sacramento, scoring 2.6 PPG in 12.1 MPG through seven games. Burks has only attempted five 3-pointers since the deal and missed all of them. Burks needs a strong finish to reestablish his value in unrestricted free agency.
Photo courtesy of USA Today Sports Images.