July 12, 4:07pm: The signing is official, according to NBA.com.
July 1, 10:56pm: Andre Iguodala has decided to return to the Warriors on a three-year, $48MM deal, according to Shams Charania of The Vertical. Iguodala himself confirmed the agreement (on Twitter) around the same time Adrian Wojnarowski of ESPN first reported that a deal was in place (Twitter link). The contract is fully guaranteed with no options on either side, per Charania (Twitter link).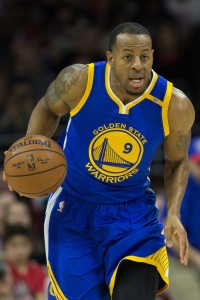 Iguodala committed to Golden State after meeting with GM Bob Myers and coach Steve Kerr tonight in Los Angeles, according to Wojnarowski (Twitter link). Iguodala also received multi-year offers from the Rockets, Spurs and Kings, putting pressure on the Warriors to increase their own offer, which was believed to originally be in the range of $12-14MM per year, with a partial guarantee in year three (Twitter link via Sam Amick of USA Today).
[RELATED: 2017 NBA Free Agent Tracker]
With new deals in place for Iguodala and Shaun Livingston, along with a super-max extension for Stephen Curry and a huge contract coming for Kevin Durant, Myers has ensured that the core of the Warriors' championship team will remain together. However, it certainly won't be cheap.
Once the Warriors come to terms with Durant on a new deal that will give him a 20% raise using his Non-Bird rights, they will have an estimated $130MM in guaranteed money on their books, as Bobby Marks of ESPN details. Even if Golden State fills out the rest of its roster with minimum salary players, team salary would exceed $137MM, putting the club way over the $119MM luxury tax line and creating a tax bill in the neighborhood of $40MM.
By exceeding the tax apron, the Warriors will lose their full mid-level exception and the bi-annual exception, but will have access to the taxpayer MLE worth $5.192MM. Of course, given how many commitments the Dubs already have on their books, any player(s) signed using that exception would be exponentially more expensive due to tax penalties.
The Warriors' future cap situation will also get a lot more interesting due to Iguodala's new deal, which includes a guaranteed third year. That means Iggy's contract will run through the 2019/20 season, which is the same year Klay Thompson's new deal will begin. If Golden State intends to retain Thompson, the team's bill on salaries and taxes that year will be massive.
While Warriors ownership will have to worry about those future tax penalties, fans in the Bay Area can rest assured that all the key pieces of last year's championship team, including veteran big man David West, will be back.
Outside of former MVPs Curry and Durant, Iguodala was viewed as the Warriors' most crucial free agent. The 33-year-old finished second in Sixth Man of the Year voting this year, and while his scoring numbers were very modest, he played a huge role for Golden State as a three-and-D wing. Iguodala ranked 11th on our list of this year's top 50 free agents.
With Iguodala off the board, it will be interesting to see where teams like the Rockets turn. Houston was reportedly having serious talks with the Cavs about Iman Shumpert, so he may be the Rockets' Plan B.
Photo courtesy of USA Today Sports Images. Luke Adams contributed to this post.