The NBA is launching an inquiry into James Harden's public callout of Sixers president of basketball operations Daryl Morey, according to ESPN's Adrian Wojnarowski and Ramona Shelburne.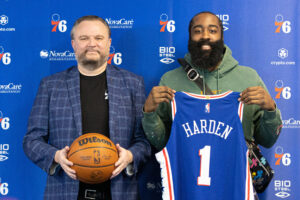 Harden made waves earlier this week when he called Morey a "liar" during his marketing tour with Adidas in China.
"Daryl Morey is a liar and I will never be a part of an organization that he's a part of," Harden said. "Let me say that again: Daryl Morey is a liar and I will never be a part of an organization that he's a part of."
According to Wojnarowski and Shelburne, the league office is attempting to gain an understanding of whether or not Harden plans to hold out in 2023/24, which would be in violation of the league's collective bargaining agreement. The league office is also trying to determine whether the former MVP was referencing past contract discussions with the Sixers that would constitute salary cap circumvention.
ESPN's report suggests that Harden has privately indicated that his public comments calling Morey a "liar" were a response to the Sixers ending trade discussions regarding Harden and Morey's expectation that the star guard would report to camp and start the season with the team. Neither the Sixers nor Harden would be in violation of league guidelines if that ends up being the case, Wojnarowski and Shelburne note.
While Harden's comments were surprising, he never outright made public allegations of a previous handshake agreement being in place with the Sixers on a future contract, Woj writes.
Harden signed a two-year contract worth $68.6MM with a player option in '23/24 last season, accepting a short-term pay cut on a deal that allowed Philadelphia to bring in P.J. Tucker and Danuel House.
After those dealings, the NBA investigated the Sixers and stripped them of two future second-round picks after determining that the team had premature conversations with Tucker and House. However, the league did not uncover any evidence of Harden or the Sixers agreeing to a future contract contingent on his pay cut at that time, according to Wojnarowski.
Harden exercised that '23/24 player option in June, with an expectation that Morey would work with him to find a trade that would send him to the Clippers, his preferred destination. Wojnarwoski reports that the Sixers and Clippers engaged in numerous conversations but never gained traction on any deal.
Morey, who faced a similar situation with Ben Simmons, isn't willing to make a trade involving Harden that negatively impacts the Philadelphia's chances of contending next year.
The Sixers continue to deny that the organization ever agreed upon an illegal future deal with Harden, Wojnarowski adds.