SEPTEMBER 26: The Warriors have officially re-signed Iguodala, the team announced today in a press release.
---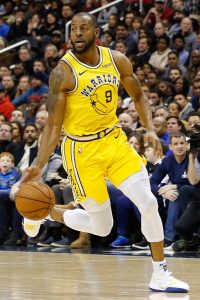 SEPTEMBER 23: Andre Iguodala will play his 19th and final NBA season with the Warriors, tweets Shams Charania of The Athletic. Iguodala made the announcement on his Point Forward podcast (video link).
Golden State had been keeping a roster spot open in hopes that Iguodala would return. His decision gives the team a full complement of 20 players heading into camp.
Iguodala played an important role in the Warriors' ascension into title contenders in the latter part of the last decade. He was traded in 2019 to help clear salary, but he returned to the team as a free agent last summer after spending two seasons with Miami.
Iguodala, who remains one of Golden State's most reliable perimeter defenders, appeared in 31 games last season, averaging 4.0 points, 3.2 rebounds and 3.7 assists in 19.5 minutes per night. He saw only minimal playing time in seven postseason games during the Warriors' title run.
The Warriors will presumably sign Iguodala to a guaranteed minimum-salary contract. Such a deal would make him the 14th Golden State player with a guaranteed salary for the 2022/23 season.
The team could carry one more player when the regular season begins, but may opt to keep that 15th spot open to maintain flexibility and avoid pushing its record-setting luxury tax bill any higher.