The Celtics are in one of the most enviable positions in the NBA, with a winning core composed primarily of veteran players in or near their prime and a wave of promising young players with years left on their rookie deals. This summer, then, won't be a particularly eventful one relative to the club's 2017 transformation.
While the club does have a few pending free agents, most are replaceable and nearly all are affordable. The question the Celtics will have to answer in the summer then, is whether they'd be better off welcoming the selected few back or auditioning new options.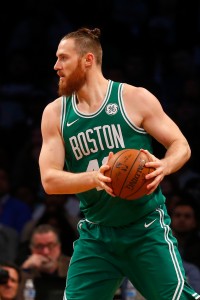 Aron Baynes, C, 30 (Up) – Signed to a one-year, $4.3MM deal in 2017
After two years serving as Andre Drummond's primary backup in Detroit, Baynes signed on with the Celtics over the summer, immediately slotting into the team's rotation as the most physically imposing big man on the roster. While Al Horford has thrived in customary fashion handling the bulk of responsibility at the five, Baynes has done what's been asked of him. The C's won't need to break the bank to bring Baynes back next season, so – without any other traditional big bodies on board – it's an easy enough sell.
Shane Larkin, PG, 25 (Down) – Signed to a one-year, $1.5MM deal in 2017
Larkin, an undersized 25-year-old, has bounced around the NBA since coming out of Miami in 2013, but hasn't made much of an impression at any of his four stops despite fascinating speed. Given Boston's depth and contention timeline, that's not likely to change. It's hard to imagine that a Celtics team with no shortage of assets would prefer a fourth-string point guard with a precarious NBA future over the roster flexibility that letting him walk would bring.
Marcus Smart, PG, 23 (Up) – Signed to a four-year, $14.8MM deal in 2014
It's weird to remember that Smart is still only 23 years old, considering that he's carved out a niche as a gritty, reliable defender over the course of several postseasons. His offensive game may leave much to be desired – he's a 29.1% career three-point shooter – but he helps a successful team win games night in and night out. It's not that much of a stretch, then, to picture other teams looking to poach Smart's services, hoping for some of that winning mojo to wear off on them. Unfortunately for Smart, a restricted free agent, there's a dearth of teams projected to have cap space next summer, the majority of whom will likely pursue more grandiose home runs swings. Expect Smart back with the Celtics at a fair price.