The Raptors have issued a press release announcing that they've officially waived veteran center Aron Baynes.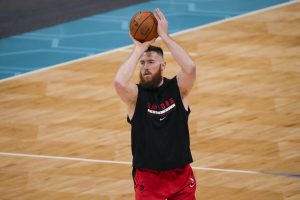 The move had been expected, since Baynes' $7.35MM salary for 2021/22 would've become fully guaranteed if Toronto had kept him on the roster. Instead, the Raptors will clear that money from their books, creating some additional cap flexibility for the coming season.
Baynes, who signed a two-year contract with the Raptors during the 2020 offseason after enjoying a career year in Phoenix, was never a great fit with his new team. He averaged a modest 6.1 PPG and 5.2 RPG in 53 games (18.5 MPG) and his shooting percentages (.441/.262/.707) were significantly below his career rates.
While Baynes didn't have a great year with Toronto, he should draw interest from teams in need of frontcourt depth. He'll likely be available at a more team-friendly rate once he clears waivers.
The Raptors, meanwhile, have now waived four players – Baynes, Rodney Hood, DeAndre' Bembry, and Paul Watson – who were on non-guaranteed contracts this week. The club, which is still working on the terms of the Kyle Lowry sign-and-trade with Miami, will have a few bench spots to fill on its 2021/22 roster.