The Jazz have done an admirable job turning what appeared to be a lost season into a competitive campaign. Thanks in no small part to the emergence of super rookie Donovan Mitchell, the future is as bright if not brighter than it was in Utah prior to Gordon Hayward's departure.
The Jazz sit within reach of the Western Conference playoff picture and just added one of the league's best bargain small forwards for good measure. Given that the club's books are in good shape for a potential playoff squad – they have just $89MM committed for next season – a smart offseason could get them close to where they left off in 2016/17.
Dante Exum, PG, 22 (Down) – Signed to a four-year, $16.3MM deal in 2014
It's hard not to be bearish on the former lottery pick considering that he's missed all or most of two of his four professional seasons with injuries. Still just 22 years old, however, it's likely that the restricted free agent will intrigue at least one other team around the Association. The Jazz don't have much reason to match a lofty deal if he lands one but they may be receptive to an affordable, short-term reunion to see if they can get a better idea of what his actual ceiling is. Much of Exum's value will be shaped by how he looks when he comes back from his shoulder injury in mid-to-late March.
Derrick Favors, C, 26 (Up) – Signed to a four-year, $47MM deal in 2014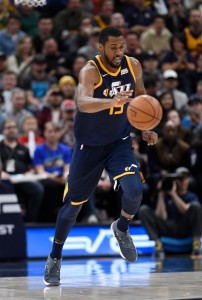 Favors went from being one of the game's intriguing young big men to a bit player on a Jazz team that emerged as a surprise contender in the Western Conference. This season, the club has seen more out of the 26-year-old than it has in years, thanks largely in part to Rudy Gobert's two long-term absences. It may be inevitable that Favors isn't a good fit next to Gobert but until head coach Quin Snyder exhausts each and every possibility for incorporating both, Favors could actually be a bargain this summer considering how drastically the narrative around him has changed. Favors isn't a franchise cornerstone as the contract extension he inked in 2013 implied but he's an above average starter that, in today's climate, deserves eight digits.
Raul Neto, PG, 26 (Up) – Signed to a three-year, $3.4MM deal in 2015
The Jazz have incorporated Neto into their rotation this season and gotten modest production in return. While it's hard to imagine they'll face much competition from other teams when he hits restricted free agency, it's conceivable to picture him back in Utah as a cheap third stringer. Don't expect the club to compromise its roster or cap flexibility in order to retain him but he's a solid option with which to round out the roster.
Derrick Rose, PG, 29 (Down) – Signed to a one-year, $2.1MM deal in 2017
The Jazz are expected to give Rose a buyout after acquiring him in the Rodney Hood deal at the trade deadline. Even if the club had no intention of buying him out though, it's slim to none that he'd land back in Utah given their depth at the point and the culture already in place within the organization. Can the banged up husk of a former MVP attract attention on the open market? Yes, of course, but the guard's inconsistent motivation to even continue playing at all will be the limiting factor.
Photo courtesy of USA Today Sports Images.