As expected, Bucks swingman Khris Middleton will opt out of his contract, declining his 2019/20 player option to become an unrestricted free agent, agent Mike Lindeman tells ESPN's Adrian Wojnarowski (via Twitter).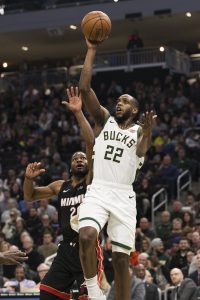 That option would have been worth $13MM, but Middleton is expected to command a long-term, maximum-salary deal on the open market, Wojnarowski tweets. According to Woj, Middleton and the Bucks intend to work together to reach a new contract agreement.
[RELATED: NBA Player Option Decisions For 2019/20]
Middleton, who will turn 28 in August, earned his first All-Star nod in 2018/19. In 77 total regular season games, he averaged 18.3 PPG, 6.0 RPG, and 4.3 APG with a shooting line of .441/.378/.837, helping the Bucks to reach the Eastern Conference Finals this spring.
While Middleton may not quite qualify as a star, his two-way abilities as a three-and-D will ensure he secures a big-time payday this summer. In addition to finishing the season as Milwaukee's second-leading scorer, he was often tasked with the most challenging perimeter assignment on defense. He was the Bucks' primary defender on Kawhi Leonard in the Eastern Finals, for instance.
Middleton will be eligible for a five-year contract with the Bucks worth up to a projected $189.7MM. Rival suitors could offer him up to $140.6MM over four years. If Milwaukee reaches an agreement with him early in free agency, the team could hold off on making it official, since his cap hold will only be $19.5MM — keeping that figure on the books and then eventually going over the cap to sign Middleton would allow the Bucks to maximize any cap room they might open up.
It will be a crucial summer in Milwaukee, as Malcolm Brogdon, Brook Lopez, and Nikola Mirotic are all up for new deals as well. The Bucks have reportedly explored moving Tony Snell and/or Ersan Ilyasova for added flexibility.
Photo courtesy of USA Today Sports Images.