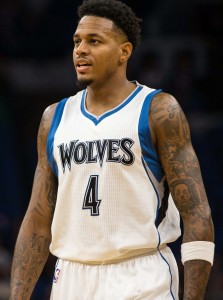 SEPTEMBER 19: The signing is official, according to Matt Velazquez of the Milwaukee Journal Sentinel (Twitter link).
SEPTEMBER 18: Free agent swingman Brandon Rush has agreed to a contract with the Bucks, according to a tweet from his agency, Priority Sports.
Contract terms weren't revealed, but Milwaukee has luxury tax concerns that suggest it will be a minimum deal. After waiving and stretching Spencer Hawes right before the August 31 deadline, the Bucks had a team salary of $115.3MM, less than $4MM away from the tax line. They had room for two minimum-salary contracts, one of which is expected to go toward re-signing Jason Terry.
Milwaukee was revealed this morning as the latest team to join the race for Rush, who spent last season with the Timberwolves. The Mavericks, Heat and Pacers all expressed interest in Rush earlier in free agency.
The Bucks will be the fifth team for the nine-year veteran, who started his career in Indiana. He had two terms of duty in Golden State and a brief stop in Utah before signing with Minnesota last summer. The 32-year-old appeared in 47 games for the Wolves, starting 33, and averaged 4.2 points per night.