Guaranteed Contracts
Non-Guaranteed Contracts
Options
Restricted Free Agents/Cap Holds
Gigi Datome ($2,275,000) — $2,187,500 qualifying offer
Jae Crowder ($1,181,348) — $1,181,348 qualifying offer1
Unrestricted Free Agents/Cap Holds
Brandon Bass ($10,350,000)
Jonas Jerebko ($8,550,000)
(Nenad Krstic $8,314,674)2
(Roshown McLeod $3,772,503)2
No. 16 pick ($1,520,300)
(Stephon Marbury $1,440,000)2
No. 28 pick ($957,200)
(Carlos Arroyo $947,276)2
(Dana Barros $947,276)2
(P.J. Brown $947,276)2
(Mark Bryant $947,276)2
(Michael Finley $947,276)2
(Grant Long $947,276)2
(Michael Olowokandi $947,276)2
(Shaquille O'Neal $947,276)2
(Scot Pollard $947,276)2
(Chris Wilcox $947,276)2
Draft Picks
1st Round (16th overall)
1st Round (28th overall)
2nd Round (33rd overall)
2nd Round (45th overall)
Cap Outlook
Guaranteed Salary: $40,406,846
Non-Guaranteed Salary: $1,894,552
Options: $0
Cap Holds: $47,833,785
Total: $90,135,183
The Celtics have made 11 trades since July, and while none of them brought the superstar that president of basketball operations Danny Ainge has openly pined for, all of those moves resulted in a 15-win improvement from last season to this one. Boston has as many as seven extra first-round draft picks coming its way, more trade exceptions than any other team in the league, and a roster that finished just two games below .500. The difficult calculus facing Ainge now is proving that he can do again what he did in 2007 and convert building blocks into a star-studded contender.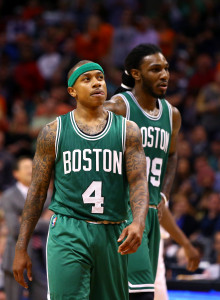 It won't be as easy this time, since the 2007 Celtics already had a resident star in Paul Pierce. Ainge dealt away the last remaining link to the 2007/08 champions when he traded Rajon Rondo in December, but since the swap, Rondo has hardly looked like the star he used to be, and the Celtics have fairly attractive assets to show for it. Jae Crowder, the only player the Celtics have left from the deal, is soon to hit free agency, too, but the Celtics have control in a way they wouldn't have had with Rondo, since Crowder's eligible for restricted free agency. The Rondo deal also gave the Celtics one of the many extra first-rounders they're owed and allowed them to create a massive trade exception that they could use to take in a player making as much as $13MM without giving up any salary in return, as I examined.
It's that final asset that will require some real creativity and hard decisions from Ainge. The trade exception expires on the one-year anniversary of the Rondo trade in December, so the Celtics can't sit on it for long. They won't even have until December if they want to use any cap space this summer. Trade exceptions go away when teams clear cap room, and the Celtics have a chance to open roughly $25.5MM worth, enough for a maximum-salary free agent, or two or three second-tier signings. They could also use cap room to take in players via trade without sending anyone out, so it's not as if relinquishing the exceptions would leave the Celtics hamstrung. Still, teams can use trade exceptions to help create new trade exceptions, in essence extending their life, as Ainge did when he used multiple trade exceptions to facilitate the Rondo deal and produce the new, massive trade exception that came out of it.
The decision won't be made in a vacuum, as more than a dozen legacy cap holds, as listed above and explained here, help ensure the Celtics wouldn't have to open cap room until they know they can sign the free agent targets they want. Some of the players that Boston would like to sign wouldn't require the use of cap space, since they're already on the roster. Ainge has sent clear signals that he'd like to re-sign Crowder, who's expressed gratitude for the expanded role that coach Brad Stevens has given him. Ainge would surely put Crowder on the back burner if a star became available, but given the swingman's relatively tiny cap hold of less than $1.2MM, he wouldn't get in the way unless another team swooped in and signed him to a bloated offer sheet of $5MM a year or more.
The math isn't as simple with Brandon Bass, who's expressed his desire to stay with the Celtics on multiple occasions in the past few months. His eight-figure cap hold makes him a prime candidate to be renounced if he and the Celtics don't come to an agreement for a significantly lower figure during the July Moratorium. He's a misfit for a rebuilding team with his 30th birthday looming on Thursday, but he'd be valuable for the Celtics if they somehow turned into a contender over the summer, and the Celtics clearly have some level of affection for him, or they'd have traded him at some point over the last two years.
A similar situation is at play with Jonas Jerebko, whose outsized $8.55MM cap hold the Celtics would surely renounce if they decide to open cap room. He aided the depth that marked the Celtics rotation down the stretch of the season and pulled down 9.6 rebounds per 36 minutes with 40.6% three-point shooting. The Celtics would probably welcome him back, but they'd be wary not to read too much into a 29-game sample size and pay much more than the minimum. The same could be said for Gigi Datome, the other player the Celtics acquired in the deadline-day trade that sent out Tayshaun Prince. Datome shot a sizzling 47.2% from behind the arc for the C's in the regular season, but that came on only 36 attempts, and he saw only 14 minutes total in the playoffs.
That's still more playing time than the four postseason minutes Gerald Wallace logged, and it's no surprise that the Celtics are willing to trade him and the more than $10MM coming his way in 2015/16, the only eight-figure salary on the books for the Celtics next season. Boston is willing to attach a first-round pick to him to make it happen, as Steve Kyler of Basketball Insiders reported, and there would certainly be worse uses of one of the many such picks the Celtics have to burn than to clear Wallace's unwieldy cap figure. Wallace's deal will finally be up after next season, but while expiring contracts have value, they aren't as sought after as they used to be, particularly since just about every team already has plenty of cap flexibility for the summer of 2016. The Sixers took on a season and change of JaVale McGee's contract for a first-round pick that's guaranteed never to be a lottery selection, but they might charge a higher price to absorb Wallace from a fellow rebuilding Atlantic Division team.
The primary motivation for trading Wallace would appear to be the chance to open even more cap room this summer, and it came as no shock to see the Celtics connected to Kevin Love again this week. Boston's path to a Love signing was seemingly growing shorter until Kelly Olynyk injured Love's shoulder, angering the All-Star and leaving him with newfound ill feelings toward the Celtics, as Adrian Wojnarowski of Yahoo! Sports wrote. Aside from Love, LaMarcus Aldridge is the next best among this year's prominent free agents who doesn't seem overwhelmingly likely to return to his team, but Aldridge would appear far more likely to end up in his native Texas than in Boston. The Celtics will reportedly target Greg Monroe, and while there haven't been recent links between the C's and DeAndre Jordan, Boston reportedly spoke to the Clippers about acquiring him in the summer of 2013 and at the trade deadline that year. Omer Asik also looms as the sort of rim-protecting center the Celtics have sought, and they talked to the Rockets about trading for him during the 2013/14 season, though he's not to be confused with a superstar.
There's no telling if Ainge and the Celtics will find what they seek this summer, but it appears they'll be just as aggressive in their star search as they were last summer, if not more so. The only safe bet is that the makeshift roster that qualified for the playoffs this spring won't last until the fall.
Cap Footnotes
1 — Crowder's cap hold would be $947,276 if the Celtics decline to tender a qualifying offer.
2 — See our glossary entry on cap holds for an explanation why these players listed in parentheses technically remain on the books.
The Basketball Insiders Salary Pages were used in the creation of this post. Photo courtesy of USA Today Sports Images.