Guaranteed Contracts
Non-Guaranteed Contracts
Options
Restricted Free Agents/Cap Holds
Unrestricted Free Agents/Cap Holds
Amir Johnson ($10,500,000)
Landry Fields ($9,375,000)
Chuck Hayes ($8,938,125)
Lou Williams ($8,175,000)
Tyler Hansbrough ($4,324,106)
(Nando De Colo $1,901,900)1
No. 20 pick ($1,257,800)
Greg Stiemsma ($947,276)
(Mickael Pietrus $947,276)1
Draft Picks
Cap Outlook
Guaranteed Salary: $49,049,074
Non-Guaranteed Salary: $0
Options: $0
Cap Holds: $46,366,483
Total: $95,415,557
The charmed run had to come to an end at some point. Toronto had been on a wild ride that began with the Rudy Gay trade in December 2013, one that transformed a lottery-bound team on the verge of a teardown into the third seed in the Eastern Conference. A disappointing seven-game playoff loss aside, the team picked up where it left off and sprinted to a 24-7 start, much of it without an injured DeMar DeRozan. The slide began shortly before DeRozan returned, and he and the rest of the Raptors stumbled to a 25-26 finish and a profoundly disappointing first-round sweep at the hands of the Wizards in the first round of the playoffs. All of it has raised uncertainty about whether coach Dwane Casey, just a year into a new three-year deal, will return next season. It would make little sense for the Raptors to cut ties with the coach at this point, as multiple Raptors beat writers have opined, but the team's defensive shortcomings speak ill of the coach who's done his best work on that end of the court.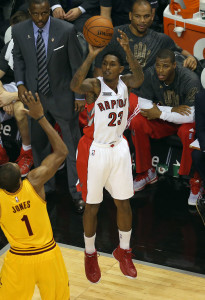 GM Masai Ujiri hasn't made any promises about Casey yet, but he said this week that he'll avoid knee-jerk reactions to the way the team played after its strong start. That means Ujiri probably won't revert to the drastic rebuilding plans that he was considering before the team blossomed after the Gay trade last year. The All-Star backcourt of DeRozan and Kyle Lowry thus figures to remain intact, barring the unforeseen opportunity to trade one or both of them for players of greater value. Marc Stein of ESPN.com hears that those two and Jonas Valanciunas are the only Raptors who should feel confident in their staying power, though that doesn't necessarily signal an overhaul. Few others on the roster would pass for certifiable core pieces, and the Raptors knew Sixth Man of the Year Lou Williams was set for free agency this summer when they made what appears to have been a sweetheart deal with Atlanta to acquire him last June.
Perhaps the most startling name left out of Stein's trio is Terrence Ross, the former No. 8 overall pick who regressed this past season. His points per game, three-point percentage, PER and Basketball-Reference Defensive Box Plus/Minus numbers were all down. Still, Ujiri defended Ross this week in the same breath in which he said there would be no knee-jerk reactions, as Ryan Wolstat of the Toronto Sun relays. The central question at play may well center on whether the team will seek to sign Ross to a rookie scale extension this summer rather than on whether the team will look to trade him. Sending him away this offseason would be selling low on a top-10 pick from just three years ago. The Raptors reportedly listened to offers for Ross before the trade deadline and considered trading him, though it didn't appear as though they aggressively sought any deal involving him. Ujiri said shortly before the deadline that it was too early to give up on the swingman and that he'd be "shocked" if he traded him. That sentiment might not be as strong as it used to be, but it would appear Ross will stick on the roster while the October 31st deadline to reach a rookie scale extension draws nearer during the offseason.
A troubling consequence of Ross' poor play this past season is that it would have been a lot easier for the team to draw a hard line in negotiations with Williams if Ross had continued to improve instead. The Raptors are nonetheless replete with perimeter players who are more than capable, from Lowry and DeRozan to Greivis Vasquez, each of whom plays at least one of the two guard positions that Williams is suited for. Toronto, even without the comfort of knowing that Ross is on the right path, has no shortage of guards or offensive threats, and Williams probably wouldn't help the team shore up its defense. It's difficult even in light of his award to envision the Raptors bringing back the Leon Rose client unless he agrees to a discount. The Raptors simply have little call for another highly paid player in the backcourt. Toronto should be expected to look into signing Toronto native Cory Joseph, according to Ryan Wolstat of the Toronto Sun, but he won't command the sort of double-digit salary Williams presumably will.
It will be nonetheless tricky to move on from Williams, since Rose also represents Valanciunas, who's up for a rookie scale extension in the offseason. It's quite conceivable the Raptors will make an offer that's fair but not too competitive to retain Williams or agree to participate in a sign-and-trade if that would be necessary for Williams to go to another team of his choice. Ultimately, the team would be better off spending the money they might commit to Williams to instead address power forward, where Amir Johnson is about to become a free agent and neither he nor Patrick Patterson has distinguished himself as a bona fide starter. It was no surprise to see the team chase David West before the trade deadline, and should he decline his $12.6MM player option for next season, Toronto would probably go after him again, though that's just my speculation. The Raptors would be able to afford a deal that gives West a salary commensurate with the value of that option, since they have only about $49MM in guaranteed salary out to nine players against a projected $67.1MM cap. He'd fit the mold of the strong defender the team lacks, though he turns 35 this summer and his offensive production has declined.
Stars like Kevin Love, LaMarcus Aldridge and Greg Monroe are probably out of reach, but that might not be the case for the understated Paul Millsap. Ujiri has pledged a pursuit of Canadians, so Toronto native Tristan Thompson makes sense, though the Cavs can match any offers for him as a restricted free agent and the questions surrounding Love seemingly make it more likely Cleveland keeps Thompson around. DeMarre Carroll looms as an intriguing option if Ujiri is on board with a combo forward type.
The team appears set going into next season at its other interior position, as Ujiri was effusive in his support for Valanciunas as his extension eligibility looms. The former No. 5 overall pick hasn't played up to his draft position yet, though he turns only 23 next week. Starting centers with potential get paid handsomely in the NBA, though Ujiri might still feel the burn from the four-year, $44MM deal he signed with JaVale McGee when the GM was with Denver. That contract came not long after Ujiri and the Nuggets signed Nene to a five-year, $65MM deal and traded him just a few months later to the Wizards in a deal that netted McGee, so the GM has shown a willingness to quickly pivot from such long-term arrangements. Committing to Valanciunas will nonetheless have consequences, especially if Rose asks for salaries like McGee's or an extension similar to the incentive-laden four-year, $48MM extension the Magic gave Nikola Vucevic this past fall. Valanciunas hasn't produced to the level that Vucevic had prior to his deal, so the Raptors would probably hold the line against $12MM salaries and seek numbers around $10MM, though that's just my estimation.
It all adds up to a healthy stack of decisions facing Ujiri, the former Executive of the Year, who'll have to take the Raptors farther than he took the Nuggets to earn consideration for the honor again. The way this season ended proved Toronto isn't a contender to win the Eastern Conference, much less the title, but though the team doesn't seem close to acquiring the star usually required to rise to that level, there are apparent paths to improvement. It's up to Ujiri to take them.
Cap Footnotes
1 — See our glossary entry on cap holds for an explanation why these players listed in parentheses technically remain on the books.
The Basketball Insiders Salary Pages were used in the creation of this post. Photo courtesy of USA Today Sports Images.