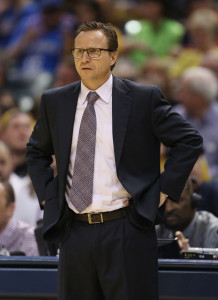 The Thunder have parted ways with coach Scott Brooks, the team announced via press release. A league source told Adrian Wojnarowski of Yahoo! Sports moments earlier that the team had fired the coach. GM Sam Presti gave Brooks the news today, Wojnarowski tweets. Brooks becomes a top candidate for the Magic and Nuggets coaching vacancies, the Yahoo! scribe adds (on Twitter). University of Florida coach Billy Donovan is a "natural favorite" to succeed Brooks, though the team's top target as of Tuesday was reportedly University of Connecticut coach Kevin Ollie, who issued a statement today that he had no interest in leaving the school. Donovan is expected to become a serious candidate, Wojnarowski hears, seconding Stein, and Donovan has done background research on Kevin Durant, notes Brian Windhorst of ESPN.com (Twitter link).
"This is an extremely difficult decision on many levels. Scott helped establish the identity of the Thunder and has earned his rightful place in the history of our organization through his seven years as a valued leader and team member," Presti said in the team's statement. "As we all know, this past year we had unique and challenging circumstances and as I have conveyed, not many people could have accomplished what Scott and this team were able to. Therefore, it is very important to state that this decision is not a reflection of this past season, but rather an assessment of what we feel is necessary at this point in time in order to continually evolve, progress and sustain.
"We determined that, in order to stimulate progress and put ourselves in the best position next season and as we looked to the future, a transition of this kind was necessary for the program. We move forward with confidence in our foundation and embrace the persistence and responsibility that is required to construct an elite and enduring basketball organization capable of winning an NBA championship in Oklahoma City."
Brooks was under contract with the Thunder through next season and with a team option for 2016/17. Wojnarowski reported last week that several people close to the coach had doubts about his security in the job that he'd held since early in the 2008/09 season. Presti didn't consult with Thunder players before making the move to let go of Brooks, tweets Sam Amick of USA Today. Durant, Russell Westbrook and Serge Ibaka all expressed their support for Brooks in the wake of Wojnarowski's story last week.
It's no surprise to see Brooks linked to the Magic, given that Orlando GM Rob Hennigan was working with Brooks in the Thunder organization when the Magic hired him in 2012. There are strong links between Presti and Donovan, too, as Presti has made two hires for the Thunder from Donovan's staff, notes Jeff Goodman of ESPN.com (Twitter link).
Brooks went 338-207 in parts of seven seasons with the Thunder and helped the team to the Finals in 2012. Still, he endured frequent criticism of his lineups and in-game strategy. Injuries befell the Thunder in the last two postseasons, and prolonged absences for Durant, Westbrook, Ibaka and others derailed another shot at contention this season for the Thunder, who finished 45-37 and out of the playoffs.
Photo courtesy of USA Today Sports Images.