Kentucky freshman forward/center Karl-Anthony Towns enters the pre-draft process as the likely No. 1 overall pick after spending much of the season being ranked behind Duke big man Jahlil Okafor. While Towns would hardly be considered an under-the-radar recruit, he wasn't projected to be a potential NBA franchise-changer upon graduating from high school. In fact, Towns was ranked as only the ninth best prospect in his class according to ESPN.com, and seventh in the RSCI overall. But what a difference one nearly undefeated NCAA season can make.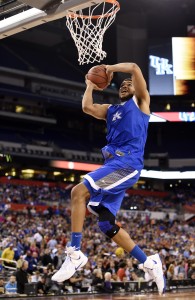 In 39 games for the Wildcats as a freshman, Towns averaged 10.3 points, 6.7 rebounds, and 2.3 blocks in 21.1 minutes per contest. His slash line was .566/.250/.813. But Towns' stats can be somewhat misleading since his overall numbers were muted by Kentucky coach John Calipari's platoon system, as well as the Wildcats' ridiculous frontcourt depth this past season. "You put Towns on any other team in college basketball, maybe with the exception of Duke, and everyone is talking about him as a legitimate player of the year candidate," one NBA GM told Chad Ford of ESPN.com (Insider subscription required). "His stats, or lack thereof, aren't an issue of talent, it's an issue of so much talent on the floor that he can take a back seat."
Towns possesses outstanding physical attributes for a big man, measuring 7'0″ in shoes with a 7'3 ½" wingspan, and his frame is NBA-ready. While he may not be a freak athletically, Towns is extremely agile, and shows remarkable coordination and dexterity for a still-developing player of his ample proportions. He also has demonstrated solid versatility on the floor, and is able to play both the center and power forward positions effectively, though he projects more as an NBA power forward than at the five spot.
Of course, it is almost impossible to discuss Towns without comparing him against Okafor. While the former Duke big man is by far the more polished of the two players offensively, Towns is the superior defender, has a much higher upside athletically, and is also a more versatile player on the offensive end of the hardwood. It is Towns' sky-high upside and lock down defensive ability that has enabled him to leapfrog Okafor and take over the top spot in the prospect rankings, with both ESPN.com and DraftExpress slotting Towns as the alpha of the 2015 draft class.
Offensively, Towns was most frequently utilized in the paint while at Kentucky, with 43% of his touches coming with his back to the basket. Towns connected on 51% of his shots from the post area, and he proved himself adept at establishing and holding his position down low. He'll need to bulk up to be able to match up against some of the stronger big men in the NBA, but Towns is still young, and should mature into an absolute beast physically in just a few seasons. "He's huge and so skilled," one GM told Ford. "I think he's got a chance to be a more mature version of DeMarcus Cousins."
Towns has shown himself to be comfortable operating from the high post and beyond, and has a high basketball IQ, which shows in his ability to execute in half court sets. His athleticism should allow him to become a force in the pick-and-roll, and his versatility and shooting range will allow him to play effectively alongside an interior-oriented center.
The 19-year-old Towns grew up as a perimeter oriented power forward who had no fear of firing away from beyond the three-point line, Givony notes. In fact, Towns led his high school team in 3-pointers made, and he drained 46% of his attempts as a 15-year old on the Dominican Republic under-17 team while attempting 5.5 threes per game, the DraftExpress scribe adds. Though Towns didn't show his range that often while at Kentucky, only attempting eight three-pointers for the season, the big man has solid mechanics, and his outside game should travel along with him to the NBA.

The freshman's post game needs improvement, especially in his footwork, which can be a tad awkward and predictable at times. Towns was prone to turnovers while operating in the paint area, giving away the ball on roughly 18% of his low post possessions. He also eschewed contact far too often for a player of his size and free throw prowess, though he did demonstrate more willingness to mix it up down low as the season wore on. Towns will need to be more aggressive with the ball in his hands in the NBA, as he won't be able to solely rely on his athletic ability to carry him against the pros.
While Towns remains a work in progress on the offensive end of the court, his defensive ability is what separates him from the rest of the big men in this year's NBA draft. He has the size and necessary strength to defend NBA centers, but Towns also possesses the mobility to guard most power forwards, which increases his overall value as a player.
Towns is a talented and instinctual shot-blocker, and his 4.4 blocks per-40 minutes ranks fifth amongst the top-100 prospects. His agility allows him to roam on defense, as well as to recover from mistakes. Towns is also athletic enough to stay with most wing players on switches, which is paramount in today's NBA. The big man is also a solid rebounder, though he'll need to improve upon his positioning in the NBA since his athleticism won't be as pronounced against professional opponents. Towns also has a propensity for foul trouble, which will likely be his Achilles heel during his rookie campaign.
The 19-year-old is one of the more exciting big men to come out of the college ranks in quite some time. If NBA scouts and GMs wanted to create the prototypical power forward for today's game, Towns would certainly be the model off which that player was based. He isn't a complete player yet, and will certainly have his growing pains during his rookie campaign. Towns isn't the type of player who will set the league on fire during his rookie season, but out of all the prospects in the 2015 NBA draft, he has the highest probability of turning into a superstar. It will take quite a showing in the pre-draft workouts from Okafor, Emmanuel Mudiay, or D'Angelo Russell to unseat Towns from being the first name called by commissioner Adam Silver on draft night.
Photo courtesy of USA Today Sports Images.