Devin Booker's name is one that often goes unmentioned when discussing the best talent in this year's draft class, but that's not because of unimpressive play during his brief stint with Kentucky. Instead, the NBA-bound Wildcat freshman can blame his hyper-talented team for overshadowing the efficient numbers he was able to put up during his lone season in blue and white. Booker is one of seven Kentucky players leaving school early to enter the pros, and while ex-teammates Karl-Anthony Towns and Willie Cauley-Stein almost certainly figure to be taken ahead of him, there's little doubt that Booker's game will effectively translate to the next level and give whichever team that takes him a solid NBA shooting guard.
Jonathan Givony of DraftExpress ranks Booker as the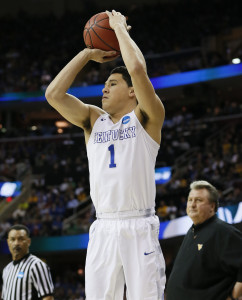 12th best prospect in this year's class, while Chad Ford of ESPN.com (Insider link) has him a decent amount lower at 19th. At only 18 years old, Booker is the youngest player in the upcoming crop of rookies; he won't even turn 19 until the 2015/16 season has already tipped off. In spite of his youth, Givony writes in the previously linked piece that Booker's strong fundamentals and high basketball IQ should definitely stand to appeal to GM's around the Association. Younger players can oftentimes be knocked for taking bad shots or turning the ball over, but Booker's stellar 47.1% field goal percentage and ultra-low 1.8 turnovers per 40 minutes prove that he makes good decisions when he's got the rock in his hands.
While his intelligence on the floor shouldn't be overlooked, it's obvious that the most impressive skill Booker brings to the table is his lights-out shooting.  He nailed 41.1% of his takes from beyond the arc last season, and his 60% true shooting percentage was fourth best in the SEC. Right around half of his attempted field goals came from three point range, so his eye-catching numbers don't come from a small sample, and at 6.9 threes attempted per 40 minutes, it's clear Booker is confident in his ability to hit from downtown (rightfully so). Floor spacing is a critical component in today's NBA game, and Booker's excellent mechanics and high release point make him arguably the best marksmen in this year's class.
At 6'6" and over 200 pounds, Booker definitely possesses enough size to play shooting guard at the next level. He's not an elite-level athlete, but he does have the capability to create his own shot and doesn't just rely on spot-up jumpers to earn his points. Excellent footwork and crafty use of teammates' screens give Booker the ability to hit on looks from all over the floor, and he's not afraid to drain it from anywhere he can get open. Still, Booker's game primarily takes place outside of the paint, and Ford believes he'll need to improve his ability to drive to the basket if he wants to become a complete offensive player at the next level. It's not that Booker struggles to finish once he's at the rim; he just has a tough time cutting through defenses and making adjustments to get there.
Booker's defense was nothing spectacular last year, but he didn't hurt his team while he was on the floor either. His 92.2 defensive rating was good enough to rank eighth in the SEC, but that figure was heavily impacted by the presence of teammates Towns and Cauley-Stein, two elite rim protectors who gave opposing offenses nightmares. Booker's height and weight will allow him to stick with most two-guards in the NBA, but Givony notes that Booker's diminutive 6'6″ wingspan will likely prevent him from effectively guarding longer wing players, severely limiting his positional versatility.
It's almost impossible to find a "sure thing" in the draft, but Booker's high IQ and precise shooting make him a low-risk selection worthy of being taken in the middle of the first round. In fact, it wouldn't be shocking to see him taken in the back end of the lottery, depending on how his workouts go over the next month and a half. Booker will probably never develop into a perennial All-Star, but his combination of youth, intelligence, and floor spacing capabilities have him looking like he has the makeup to be a solid NBA two-guard at the very least, with the ceiling of a very good fundamental player who can score in bunches.
Photo courtesy of USA Today Sports Images.