MONDAY, 10:03am: Curry has indeed won the MVP, the league announced via press release. He garnered 100 out of 130 first-place votes. Harden, the second-place finisher, received 25, while the other five went to LeBron James, who came in third. Russell Westbrook, Anthony Davis and Chris Paul followed in the voting among media members. To see each voter's ballot, click here.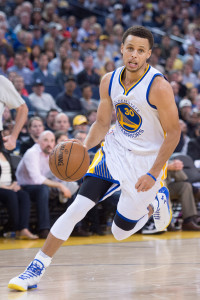 SUNDAY, 6:33pm: Stephen Curry will be named the league's Most Valuable Player, reports CSNBayArea.com's Monte Poole, who cites multiple league sources. The official announcement, Poole writes, is expected to be made between Games 1 and 2 of the Western Conference semifinals series between the Warriors and the Grizzlies.
Curry, 27, would become the first Warrior in the franchise's 53-year California history to win the award, Poole notes. Curry, who led the Warriors to an NBA-best 67-15 regular season record, was the top vote-getter in this year's All-Star Game, which he started in for the second straight season. Curry will be only the second Warriors player to win the NBA MVP award, tweets Yahoo! Sports' Marc J. Spears, who noted that the other was Wilt Chamberlain of 1959/60 Philadelphia Warriors.
After the Warriors' Game 1 win, Curry was asked if he expected to win the MVP. Tim Kawakami of the Bay Area News Group transcribed the post-game interview.
"I honestly have no idea," Curry said. "It's obviously just — in the middle of a playoff series, it's hard to kind of separate yourself with other things that may or may not happen.  Obviously I know what the situation is, and just trying to focus on the game, and if I get a call tomorrow, I'll definitely be happy, and there will be a lot of people that can be proud of that moment, as well, and we'll enjoy it. But right now I'm happy we won Game 1.  I'll wake up tomorrow a fresh new day, and we'll see what happens."
The slick-shooting sixth-year point guard averaged 23.8 points per game, which was good for sixth in the league. He also averaged 7.7 assists (sixth in the league) and 2.04 steals (fourth in the league). He shot 44.3% from 3-point range (fourth). His 91.4%  on free throws was tops in the league. The runner-up in the voting, reports Poole, citing sources, was Rockets star James Harden.
The award is further confirmation of Curry's status as one of the game's best values. The Warriors signed him to a four-year, $44MM extension in the fall of 2012 amid concerns over his ability to avoid then-persistent ankle injuries. He's missed only 10 games in the three years since and is making just a little more than $10.629MM on the backloaded deal.
Chuck Myron contributed to this post. Photo courtesy of USA Today Sports Images.