The Heat lost their top free agent last summer, and even though the stakes are much lower this time around, the franchise is hoping to keep Goran Dragic in Miami. The Heat are still reeling from LeBron James' announcement last July that he was returning home to Cleveland. After four straight trips to the NBA Finals, Miami missed the playoffs with a 37-45 record this season. Now, instead of dominating the NBA, the Heat have started rebuilding.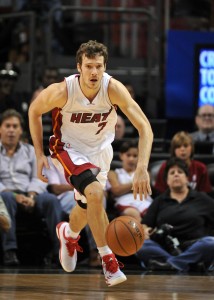 Part of that process will be re-signing Dragic, who came to Miami from Phoenix in a three-team deal at February's trade deadline. It cost the Heat four players and two first-round draft picks to acquire Dragic, who was a Third-Team All-NBA selection in 2013/14. To get the seventh-year guard from Croatia, Miami dealt Danny Granger to the Suns, along with a top-seven protected pick in 2017 and an unprotected selection in 2021. The Heat also sent Norris Cole, Shawne Williams, Justin Hamilton and cash considerations to New Orleans to complete the deal.
After shelling out so much to get Dragic, Miami wants to make sure he stays with the franchise for the long term. He has a $7.5MM player option for next season that he has already announced he will decline. Dragic has seemed to form a bond with Miami since the trade, calling it his favorite U.S. city. "I had a great time in Miami and I want to come back," he told Jason Lieser of the Palm Beach Post last month, "but we'll see what happens."
What might happen is a large offer from the Lakers or Knicks, who were both reportedly on a list of favored destinations — along with Miami — that Dragic compiled before being traded from Phoenix. Both teams could use an experienced point guard and both have plenty of cap room to throw maximum offers at Dragic. And there are likely to be more suitors. Dragic, represented by agents Rade Filipovich and Bill Duffy of BDA Sports Management, has repeatedly made it clear that he will listen to every offer that comes his way.
One possible landing spot for Dragic is Houston, although the Rockets would have to clear some cap room to become serious bidders. Dragic spent part of the 2010/11 season and all of 2011/12 in Houston before leaving in the summer of 2012 to sign a four-year, $30MM free-agent deal with Phoenix. The Rockets were pursuing Dragic at this year's trade deadline before he was dealt to Miami. It was reported in February that Dragic wasn't willing to sign a long-term deal with Houston or any other team not on his list of preferred destinations. Dragic was apparently reluctant to sign long-term with the Rockets for fear that they would trade him later.
No matter who comes calling, Dragic noted that the Heat have a "huge" advantage because they own his Bird Rights and can offer a five-year deal, while other teams are limited to four. The total value of a maximum offer from Miami would be roughly $110MM, compared to about $81MM from anyone else. Miami also has the built-in financial advantage of being located in Florida, which has no state income tax.
"As long as I'm in a happy environment and a healthy organization, that's the most important thing," Dragic told Lieser in a separate story. "The next three, four, five years — I want to spend it on this kind of team, like the Miami Heat. They have great players, great coaching staff and great training staff."
The attraction of Dragic, who turned 29 last week, is obvious. In 26 games after being traded to Miami, he averaged 16.6 points and 5.3 assists. He's a 36% career shooter from three-point range and has a reputation for being durable, appearing in 77, 75 and 78 games the last three seasons.
The Heat have been open about their desire to retain Dragic. Shortly after their season ended, coach Erik Spoelstra said that he wants to bring back Dragic and Luol Deng, who also has a player option. "They're absolute pros," Spoelstra said, "the kind of guys you want to build your team around, the guys you want to go to work with, the guys you want to be in a foxhole with."
Still, the Heat have some cap concerns. Chris Bosh signed a max deal last summer that will pay him more than $118MM through 2018/19; Dwyane Wade has a player option worth more than $16MM next season, and Hassan Whiteside will be seeking a sizable new deal next summer. But if Dragic stays in Miami, his new contract will be offset by an expected jump in the salary cap once the new television deal kicks in after next season. Dragic is certain to get plenty of offers this summer, but his fondness for the city and the Heat's financial edges should be enough to make him one of the leaders of a post-LeBron resurgence in Miami.
Photo courtesy of USA Today Sports Images.