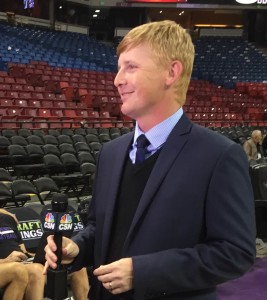 Nobody knows NBA teams better than beat writers, save for those who draw paychecks with an NBA owner's signature on them. The reporters who are with the teams they cover every day gain an intimate knowledge of the players, coaches and executives they write about and develop sources who help them break news and stay on top of rumors.
We at Hoops Rumors will be chatting with beat writers from around the league and sharing their responses to give you a better perspective on how and why teams make some of their most significant moves. Last time, we spoke with Jason Lieser of The Palm Beach Post about the Heat. Click here to see all the previous editions of this series.
Today, we gain insight on the Kings from James Ham of CSN California and CSNBayArea.com. You can follow James on Twitter at @James_Ham, on Facebook at facebook.com/JamesHamKings and on Instagram at instagram.com/james_ham15/. Check out his stories here.
Hoops Rumors: From DeMarcus Cousins trade rumors to the recent team meeting to reports of frustration with George Karl, the Kings organization has a reputation for turmoil. Are Vivek Ranadivé and Vlade Divac learning any lessons from all this about how to keep situations from getting out of hand?
James Ham: Ranadivé has had to learn on the fly over his two-plus years running the Kings. It hasn't always been easy. He makes plenty of mistakes, but hopefully he has learned from them.
The addition of Divac has brought a calm to the franchise. From the outside looking in, Sacramento is chaotic and dysfunctional. But the issues are being worked through and Divac is making the best of a situation that very few general managers would even attempt to take on.
Divac has developed a tight bond with Cousins. There is trust between the two big men, which isn't an easy thing to accomplish when it comes to the Kings All-Star center. The gamble Divac made of bringing in Rajon Rondo has given Cousins a mentor.
As crazy as it may seem, the Kings are in a much better place than most media reports would have you believe. With the backing of Ranadivé, Divac is giving the Rondo/Cousins pairing a real chance to succeed before buying into any narratives concocted from the outside. It may not be a perfect situation, but when you are an NBA outpost, you do what you can to build a winner.
Hoops Rumors: Caron Butler seems like he's played an important role in the locker room this season, but now the Kings have reportedly promised to trade him so he can see more playing time. If that's true, who's next in line to inherit that leadership capacity?
James Ham: It sounds like the Kings will take care of Butler and find a better spot for him to finish out his career. While Butler has been a veteran presence, the Kings have plenty of other experienced players to turn to.
Rondo has quickly risen to the top of the team's leadership hierarchy. Butler will be missed, but there is a large group of players on this team that are extremely close to one another. Divac added plenty of seasoned winners to the roster.
Hoops Rumors: Recent controversy aside, Rondo has looked so much better this season than he did last year. What's made the difference for him?
James Ham: There are a couple of reasons for Rondo's success. First and foremost, he is completely healthy for the first time in a while. You can see that he has his explosive first step back.
Rondo missed training camp the previous two seasons due to injury. When he showed up in San Diego for day one of Kings camp he instantly began to put his personal stamp on the team. That may make some cringe, but the Kings were looking for a floor general and Rondo is a coach both on and off the floor.
There is no question that Rondo has a big personality. When he was traded to Dallas mid-season last year, it didn't work. He was surrounded by too many veterans. They were already a winning club and they weren't looking for a leader as much as they were looking for a lead guard.
Rondo is getting a fresh start in Sacramento. For better or worse, this is his team. He has made mistakes, but he has also been a star on plenty of nights.
Hoops Rumors: We haven't seen too much of Willie Cauley-Stein and Cousins on the court together, thanks to injuries that have kept them both out at different times. Still, how have they meshed when Karl has put them both on the floor at the same time?
James Ham: Cauley-Stein has a ton to learn about the pro game. He is a quick study, but the Kings have had to start from scratch with him. He had very little exposure to the weight room and according to him, he had never really studied film before being drafted to the Kings.
Injuries have kept these two from playing together for much of the season and that will likely continue with Cauley-Stein's finger injury. This should be a good long-term fit, but the early returns are not great.
Cauley-Stein knows to stay out of Cousins' way on the floor. On the defensive end he is active when healthy, but he needs to add strength to compete against NBA regulars.
Hoops Rumors: Speaking of tandems, can Rondo and Darren Collison effectively share the floor, and if not, what can the Kings do about it?
James Ham: This is a tough question. On paper, this should work. Collison spent plenty of time playing off the ball with Chris Paul in Los Angeles, but the transition to working with Rondo is an advanced statistics nightmare.
We have seen some developments on this front over the last week or so, but it is a work in progress. Last season, Collison was the man. This season, Rondo is garnering all the acclaim. The Kings need both players to succeed, especially with Karl's penchant for running dual point guards.
Long term, I think it works. Collison's early injury forced Rondo into 48-minute-a-night duty. The team became overly reliant on his style of play and when Collison returned from injury, he tried to fit in instead of being himself.
We are starting to see Collison come in and change the pace when he is leading the team and find his spots when Rondo is in charge. It's a tough transition, but Collison is a quality NBA guard and a very good locker room guy. Chemistry may take a little more time, but this is an important combination for the Kings.
Hoops Rumors: Ben McLemore has looked sharp on occasion, and he's shooting a higher percentage on 3-pointers, but his minutes, and thus many of his other numbers, are down this season from last year. What has to happen for him to start seeing more playing time and live up to his billing as last year's No. 7 overall pick?
James Ham: McLemore is in a tough spot. For his first two seasons, the Kings were rudderless and he was given every opportunity to play major minutes. Maybe he wasn't handled properly during this stretch, but now he is on a completely different team.
The Kings added 10 new faces during the offseason, including three guards. The addition of Rondo has pushed Collison to take time at the two. Marco Belinelli is a seasoned pro with an elite skill and he too needs time.
Karl has tried plenty of three guard sets against smaller clubs, but McLemore's inconsistency has hurt him. He's still only 22 years old, but he now finds himself on a veteran-laden team. He has to produce. There are no nights off or bad stretches of inefficient ball. If he wants to play, he has to develop as a defender, a playmaker and continue to play aggressively.
McLemore is a great kid and an extremely hard worker, but he's fighting for minutes against players with years of experience both in the regular season and in the playoffs. The Kings are dedicated to his development, but they have made a commitment to winning as well. It is up to him show that he can help this team on a consistent basis. If not, Karl has plenty of other options.