Hoops Rumors is looking ahead to offseason moves for all 30 teams. We'll examine free agency, the draft, trades and other key storylines for each franchise as the summer approaches.
State Of The Franchise
The Thunder's season ended in disappointment, as a 3-1 series lead in the Western Conference Finals gave way to three straight Golden State wins and a barrage of Klay Thompson three-pointers. Still, it's unfair to consider Oklahoma City's season a disappointment on the whole.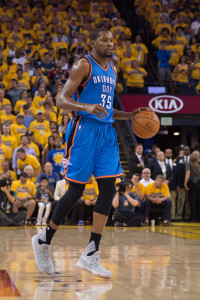 Before being bounced from the playoffs by the Warriors, the Thunder earned the No. 3 seed behind two historically great teams that averaged 70 regular-season wins apiece. Oklahoma City ultimately dispatched one of those two teams – the Spurs – from the postseason before very nearly eliminating the other. If a couple more breaks had gone the Thunder's way, we could very well be discussing their postseason run as one of the greatest of all time, rather than looking back and wondering how they failed to finish off Golden State.
It's possible that the Thunder's 2016 playoff run represented the last time we'll see this group together, but it would be a bit of a shock if that were the case, as we'll outline below.
Priority No. 1 (and No. 2 and No. 3): Re-Sign KD

With apologies to LeBron James, whose potential free agency hasn't generated the same sort of discussion that it has in years past, no free-agent-to-be has been the subject of more speculation and rumors than Kevin Durant. It's the first time Durant will be eligible for free agency, and there's an expectation that he'll be open to hearing pitches from potential suitors.
It remains to be seen exactly how open Durant will be — will only one or two teams besides the Thunder get an audience with the former MVP, or will he be willing to give every interested club a shot? The latter approach could certainly prolong his decision, since it's possible that 15 or 20 teams will have interest in making a play for Durant, and most clubs will have the cap space necessary to land him.
Ultimately though, there are two key factors that should push Durant back to Oklahoma City after he tests the open market. For one, there simply aren't many teams around the NBA that are as championship-ready as the Thunder. Only the Spurs and Warriors, both of whom are believed to be eyeing Durant, could make a convincing case that adding KD would make them the prohibitive favorite for the 2017 title, and Durant may not want to simply jump ship to one of the Thunder's biggest rivals.
Secondly, and perhaps more importantly, no team can offer the kind of money to Durant that Oklahoma City can. Whether the 27-year-old wants to sign a long-term contract right away or a year from now – when that max contract will likely be worth significantly more, as we've previously outlined – it makes the most sense for him to re-up with Thunder, who can offer more years and higher raises than any rival suitor.
Those factors don't make OKC a lock to re-sign Durant — anything can happen in free agency. But barring a drastic turn of events, the Thunder will head into July as the frontrunners in the KD sweepstakes.
The Other Free Agents

Durant isn't the Thunder's only free agent, but he's clearly the most important one, and his decision will have a trickle-down effect on all the other moves the team makes this offseason. If Durant elects to sign elsewhere, Oklahoma City will have a major hole to fill in its frontcourt, and would have the cap room necessary to add an impact player. But if we're assuming Durant returns, the Thunder will likely turn their attention to filling out their roster with complementary pieces, and that could mean re-signing Dion Waiters, who is eligible for restricted free agency.
Waiters, acquired in a trade a year and a half ago, isn't an ideal bench piece for the Thunder. His shooting percentage has been below 40% since he arrived in Oklahoma City, and his PER slipped to single digits in 2015/16. With Durant and Russell Westbrook rarely both on the bench at the same time, Waiters' ability to create his own shot and score points for the second unit isn't as valuable as it otherwise might have been, and OKC might be better off with a pure shooter in that spot instead.
However, if Durant re-signs, the Thunder will be right up against the salary cap threshold. Even parting ways with Anthony Morrow – who has a non-guaranteed salary – wouldn't create much more room under the cap than an over-the-cap OKC squad would have with the mid-level exception at its disposal. So even though allowing Waiters to depart in free agency would free up a roster spot, it wouldn't necessarily free up any more spending flexibility for the Thunder. That may be why GM Sam Presti has indicated he's optimistic about bringing back both Waiters and Morrow.
Randy Foye and Nazr Mohammed are unrestricted free agents for the Thunder, but I don't expect either player to re-sign, unless it's for the minimum. Mohammed may be headed for retirement, while Foye set new career-lows in FG% and 3PT% in 2015/16.
Looking To The Future

One important consideration for Durant as he decides on his next contract will be the Thunder's plan for the future. Two years after the former second overall pick agreed to his first contract extension with Oklahoma City, the team sent James Harden to Houston, so Durant will want to know if any such moves are on the horizon this time around.
Durant surely recognizes that the current roster is getting expensive, with several of his teammates eligible for free agency a year from now, so he'll want to know how the Thunder intend to address the cap crunch. Even with the cap on the rise, retaining Durant, Westbrook, Serge Ibaka, Enes Kanter, Steven Adams, and Andre Roberson for the long-term probably isn't tenable.
The Thunder are unlikely to make any moves related to Westbrook or Ibaka this offseason, but Adams and Roberson will both be extension-eligible for the first time, so the club will have to determine whether it makes sense to lock up either player before they hit restricted free agency. Both Adams and Roberson have emerged as crucial cogs in the Thunder's rotation, with Adams providing rebounding, rim protection, and toughness, while Roberson is an excellent defender whose three-point shooting has improved.
Of the two players, Adams is expected to be the Thunder's top priority, but that doesn't necessarily mean he'll be extended this year. The team will be able to match any rival offer for the big man next summer, so it could be prudent to wait to see what happens at that point with Westbrook and Ibaka, rather than prematurely locking in a big new deal for Adams.
Filling Out The Roster

The Thunder haven't been very active in free agency in recent years, preferring to build their roster by drafting and making trades, then re-signing their own players. The team usually only has the mid-level exception at its disposal, so that inactivity isn't surprising. Still, if there was ever a year to use that full MLE to add one more player to the roster, this might be the year.
In the Western Conference Finals, the Thunder made just 55 three-pointers to Golden State's 90, and shot only 32.2% on their three-point attempts, compared to 39.6% for the Warriors. It's probably unfair to expect OKC to match up with the greatest three-point shooting team of all time in that department, but players like Morrow and Foye, brought in to fill that role, were mostly non-existent in the Conference Finals. Using the mid-level exception to pursue a free agent like Jared Dudley or Courtney Lee, who could more reliably make those open shots created by Durant and Westbrook, seems logical.
If the MLE isn't enough to attract a free agent of that caliber, given the rising salary cap, the Thunder could also explore the trade route. Former first-round picks like Mitch McGary and Josh Huestis aren't part of OKC's rotation, having spent a good chunk of last season in the D-League, and could be packaged with Kyle Singler and/or draft picks in a trade. Of course, it wasn't long ago that Singler looked like a possible solution to the Thunder's three-point woes, so perhaps the team prefers to hang onto him in hopes of a bounce-back season. The club may also still envision McGary and Huestis as inexpensive rotation players for the future.
Final Take
Durant's decision will dictate what sort of summer it is in Oklahoma City. If he returns, this team remains a championship contender, even without any other real changes. If he bolts, Presti will have some challenging decisions to make, particularly with Westbrook set to enter the last year of his contract.
Guaranteed Salary
Russell Westbrook ($17,769,374)
Enes Kanter ($17,145,838)
Serge Ibaka ($12,250,000)
Kyle Singler ($4,837,500)
Nick Collison ($3,750,000)
Steven Adams ($3,140,517)
Andre Roberson ($2,183,072)
Cameron Payne ($2,112,480)
Mitch McGary ($1,526,040)
Josh Huestis ($1,191,480)
Total: $65,906,301

Player Options
Team Options
Non-Guaranteed Salary
Restricted Free Agents (Qualifying Offers/Cap Holds)
Unrestricted Free Agents (Cap Holds)
Other Cap Holds
Projected Salary Cap: $92,000,000
Footnotes:
The cap hold for Durant will be the maximum salary for a veteran of 7-9 seasons. The number shown here is an estimate based on the projected cap figure.
The Basketball Insiders salary pages were used in the creation of this post. Photo courtesy of USA Today Sports Images.