Hoops Rumors is looking ahead to offseason moves for all 30 teams. We'll examine free agency, the draft, trades and other key storylines for each franchise as the summer approaches.
State Of The Franchise
The 2015/16 season was the most successful in Raptors history. After having only ever won a single five-game playoff series during the first two decades of their existence, Toronto celebrated its 21st season by winning a pair of seven-game series against the Pacers and Heat before falling to Cleveland in the Eastern Conference Finals.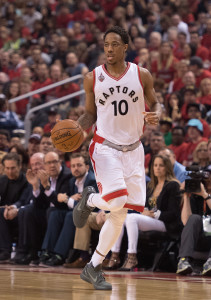 Despite earning a spot in the NBA's final four alongside the Cavaliers, Warriors, and Thunder, the Raptors were never viewed as a serious threat to win the title. The team lacks the star power of those other clubs — there's no Stephen Curry, LeBron James, Kevin Durant, or Russell Westbrook on the Raptors' roster. The team's two All-Stars, Kyle Lowry and DeMar DeRozan, had great seasons, but were somewhat inconsistent in the playoffs, and it's not clear if Toronto will ever be able to seriously challenge for a championship if Lowry and DeRozan are their best players.
That predicament will create some interesting decisions this offseason for the franchise, led by general manager Masai Ujiri. It's not as if Ujiri will break up a roster that was two wins away from an NBA Finals appearance. Head coach Dwane Casey has already had his contract extended, and the Raptors figure to do all they can to keep the core of their roster intact while adding complementary pieces. Still, Ujiri likely recognizes that his club wasn't close to beating LeBron and the Cavs, so the GM will have to be on the lookout for the sort of splashy move that could really increase the Raptors' ceiling.
What Are DeRozan, Biyombo Worth?
Two players who were crucial to the Raptors' playoff run are facing unrestricted free agency this summer, or at least they will be after DeRozan formally declines his player option and opts out of his deal. Biyombo has already turned down his player option, and is on track to hit the open market on July 1st.
With the salary cap set to make a huge leap from $70MM to an estimated $92MM for the 2016/17 season, most teams around the NBA will be able to comfortably keep all of their key free agents, but that's not the case in Toronto. The Raptors already have nearly $70MM in guaranteed salaries on their cap for next season, and even before DeRozan signs a new contract, he'll have a cap hold of $15.5MM. Throw in the cap holds for the Raptors' two first-round picks, and that barely leaves any money for Biyombo. Since the lanky center signed with Toronto just a year ago, the team only holds his Non-Bird rights, significantly limiting the size of the contract it can offer him without cap space.
Biyombo has indicated he's open to a "hometown discount" to stay with Toronto, but for a player who could command $16MM+ per year, it would either have to be a pretty massive discount, or the Raptors would have to make major changes to the rest of their roster to accommodate a Biyombo deal. Ujiri, who has landed first-round picks in exchange for players like Andrea Bargnani and Greivis Vasquez in recent years, is the type of GM who is far more inclined to sell high on a player than to offer a player coming off a career year a lucrative long-term contract. In other words, unless DeRozan decides to sign elsewhere or the Raptors trade another high-priced player, Biyombo – a fan favorite – looks unlikely to be back.
As for DeRozan, while his fondness for 20-foot jumpers may frustrate Raptors fans at times, the team won't let him walk for nothing. Both sides seem eager to continue the relationship, and if that means giving DeRozan a new maximum salary contract – as expected – the Raps figure to put that offer on the table.
Potential Trades
If the Raptors want to make an effort to bring Biyombo back, the two most obvious trade candidates on the roster would be the two players whose rookie contracts will be up in three weeks. Jonas Valanciunas and Terrence Ross each signed new extensions with the Raptors last fall, and those contracts will go into effect on July 1st, with the duo combining to count for more than $24MM against the club's cap in 2016/17.
One argument against keeping Biyombo is the presence of Valanciunas — Biyombo figures to receive offers from teams intent on making him a starter, and if he stays in Toronto, he'd almost certainly come off the bench behind Valanciunas. Trading the Lithuanian big man would create an opening in the starting lineup, but unless the Raptors could get a monster return in such a deal, it's not clear it would help the team. Valanciunas' offensive game is light years ahead of Biyombo's, and if the Raptors do hope to take the next step toward title contention, continued improvement for the former fifth overall pick – who is just 24 years old – will be crucial.
Of the two recently-extended Raptors, Ross is the more expendable player. If DeMarre Carroll is healthy and Norman Powell takes another step forward, Toronto has a little depth on the wing, albeit not a ton. Ross is also one of the few players on the roster who is a threat as an outside shooter, and if the Raps moved him, they'd have to make three-point shooting a top priority in their other offseason moves. If the team uses its top-10 pick later this month to select a shooter, the Ross trade rumors could gain some steam.
Draft Outlook
First-round picks: 9th, 27th
Second-round picks: None
Speaking of the draft, the Raptors' aforementioned Bargnani trade from several years ago has put them on track to achieve a rare feat: making the Conference Finals and drafting in the top 10 in the same year.
If the Raptors keep that ninth overall pick, it seems likely that the team will target a power forward or a shooter (or perhaps a player who fits both criteria). However, Ujiri has indicated that the team is open for business when it comes to its first-round picks. According to the GM, the coaching staff isn't overly eager to add two more rookies to a roster that already features plenty of developing young players like Lucas Nogueira, Bruno Caboclo, and Delon Wright. That means the Raptors will likely deal at least one of their two first-rounders, if not both.
Given how affordable draft picks are compared to free agent contracts, the Raptors should draw interest from possible trade partners if they shop their first-rounders, but it will be tricky to add an impact veteran without attaching the pick(s) to one of their veteran players. The team isn't expected to have much – if any – cap room, so it will have to move salary in order to take on salary.
If Toronto ultimately keeps its top-10 pick, Domantas Sabonis, Skal Labissiere, and Henry Ellenson are among the bigs who could be options at No. 9, as ESPN's Chad Ford tweeted today.
Free Agent Targets
The Raptors' top two free agent targets are their in-house players – DeRozan and Biyombo – but if the team moves on from Biyombo and renounces Luis Scola, there may be a little room to add another veteran, perhaps with the mid-level exception.
Depending on how the draft plays out, a wing player capable of making three-pointers or a power forward who can protect the rim will likely be the Raptors' top targets in free agency. With the cap on the rise, the odds of landing a player who excels in either of those categories with a mid-level type deal are slim, but perhaps Ujiri can find a bargain after the first wave of free agency ends.
Terrence Jones, Mirza Teletovic, and Jordan Hill are some of the bigs who could make sense for the Raptors. Finding veteran shooters who could move the needle for Toronto is a trickier task, unless the team wants to take a shot on a bounce-back candidate like Wayne Ellington or Randy Foye. Someone like Jared Dudley could also be a fit.
Final Take
On the surface, the Raptors don't have a clear path to a major upgrade, since they'll have to use most of their cap resources just to keep their current roster intact. Still, Ujiri has a history of being creative when it comes to upgrading his rosters, and having an extra first-round pick to work with will provide some additional flexibility.
One thing to keep in mind regarding Ujiri's approach is that he's willing to retain assets even if he's not convinced that they're part of the long-term plan. When he was the Nuggets GM, he re-signed Nene to a five-year, $65MM contract, only to trade him three months later. That doesn't mean we should expect DeRozan to be traded by next year's deadline even if he re-ups with Toronto on a max deal, but Ujiri's willingness to adjust on the fly could be a factor if he explores the trade market for Valanciunas or Ross.
For a team coming off a Conference Finals appearance, armed with two first-round picks, the future remains bright, and with an extra first-rounder likely headed Toronto's way in 2017 as well, there's no rush for Ujiri to shove all his chips into the middle of the table. A splashy move is always a possibility, but there's no need to panic if the team simply re-signs DeRozan, adds a top-10 talent, and makes some adjustments around the edges of the roster.
Guaranteed Salary
Jonas Valanciunas ($14,382,023)
DeMarre Carroll ($14,200,000)
Kyle Lowry ($12,000,000)
Terrence Ross ($10,000,000)
Cory Joseph ($7,315,000)
Patrick Patterson ($6,050,000)
Lucas Nogueira ($1,921,320)
Bruno Caboclo ($1,589,640)
Delon Wright ($1,577,280)
Norman Powell ($874,636)
Total: $69,909,899

Player Options
Team Options
Non-Guaranteed Salary
Restricted Free Agents

Unrestricted Free Agents (Cap Holds)
DeMar DeRozan ($15,500,000) — pending player option
Luis Scola ($3,480,000)
Bismack Biyombo ($3,376,800)1
James Johnson ($3,250,000)
Jason Thompson ($980,431)
Total: $26,587,231

Other Cap Holds
No. 9 pick ($2,253,300)
Nando De Colo ($1,901,900)
No. 27 pick ($996,700)
Total: $5,151,900
Projected Salary Cap: $92,000,000
Footnotes:
Biyombo has declined his player option for 2016/17.
The Basketball Insiders salary pages were used in the creation of this post. Photo courtesy of USA Today Sports Images.