JULY 8th, 7:16pm: The signing is official, the team announced.
8:25pm: Rivers' deal is worth $35.7MM over three years, per Brad Turner of The Los Angeles Times (Twitter link).
JULY 2nd, 7:00pm: Austin Rivers has agreed to re-sign with the Clippers, Adrian Wojnarowski of The Vertical reports (on Twitter). It's a three-year deal worth $35MM+, according to Dan Woike of the SoCal News Group. There is a player option in the final year of the contract, reports Ramona Shelburne of ESPN.com.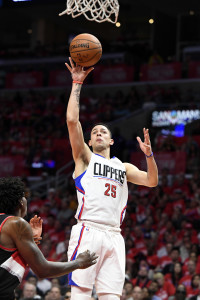 The signing would indicate that the Clippers are out on the Kevin Durant sweepstakes unless they move one of their stars, Shelburne surmises (ESPN Now link).  The Clippers met with Durant on Friday in the New York area and they are trying to retain their own free agents, including Jamal Crawford and center Cole Aldrich, Adrian Wojnarowski of The Vertical writes.
"It was tough. But after heavy thinking I decided I wanted to come back. I'm happy with my decision," Rivers said, per Shelburne.
Rivers met with the Clippers Friday and was also expected to meet to talk to the Knicks and possibly the Trail Blazers, too. Rivers, in a move that was anticipated, opted out of his contract prior to July 1st. The combo guard was set to earn $3,344,106 next season, but with the salary cap's rise, he was a lock to land a more lucrative – and longer – deal in free agency.
The 23-year-old made 67 appearances for Los Angeles this past season, averaging 8.9 points, 1.9 rebounds and 1.5 assists in 21.9 minutes per outing to accompany a shooting line of .438/.335/.681. Rivers, the No. 10 overall pick in the 2012 NBA draft, has career averages of 7.4 points, 1.9 rebounds and 2.0 assists through 273 contests.
Team president and coach, Doc Rivers, who is Austin's father, has said that he wants to re-sign as many of the Clippers' free agents as possible.
Photo courtesy of USA Today Sports Images.