JULY 12TH, 6:45pm: The signing is official, the team announced via press release. "We would like to welcome Dwight, and his family, home to Atlanta and into our Hawks basketball family.  We feel Dwight will have a huge impact on both ends of the court with his physical presence and the force he brings to the game," coach/executive Mike Budenholzer said.   "We also look forward to his impact in our community as we all look to take Atlanta to another level on the court and off.  We feel very fortunate to add a player of Dwight's caliber and we look forward to assimilating Dwight into our team."
JULY 1ST, 5:55pm: Howard's three-year deal is fully guaranteed, with no option years, tweets Marc J. Spears of The Undefeated. Spears adds that the Hawks increased their initial offer by about $7MM.
5:40pm: The Hawks and Dwight Howard have struck a deal, according to Shams Charania of The Vertical, who reports (via Twitter) that the two sides have agreed to terms on a three-year contract. The pact will be worth $70.5MM, per Charania. It's a homecoming for Howard, who was born and raised in Atlanta.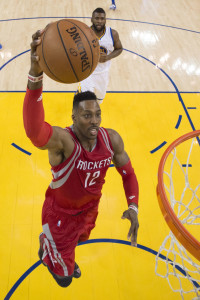 Howard, 30, met with the Hawks shortly after free agency began today, and multiple reports indicated that the team made a strong impression on him during that meeting. The former first overall pick was expected to meet with the Celtics and reportedly had interest from at least a couple other teams, but got an offer he liked from Atlanta and decided to take it.
Howard made 71 appearances for the Rockets in 2015/16, averaging 13.7 points, 11.8 rebounds, 1.4 assists and 1.63 blocks in 32.1 minutes per game. He shot 62% from the field, but just 48.9% from the free-throw line.
The eight-time All-Star declined his 2016/17 player option with the Rockets last month, opting to hit the open market instead of returning to Houston. Howard would have earned more than $23MM in 2016/17 if he had picked up the option, and essentially matched that yearly figure on his new deal — of course, Howard's agreement with the Hawks will pay him that amount annually for the next three years, rather than just for one year.
The Hawks' agreement with Howard doesn't necessarily take the team out of the running for Al Horford. ESPN's Marc Stein Stein first reported on Tuesday that Atlanta would seriously consider Howard as a free agent target if the team was unable to wedge its way into the Kevin Durant sweepstakes. According to Stein, the Hawks planned to go after Howard with the idea of playing him alongside Horford in their frontcourt.
Still, Horford is being heavily recruited by the Celtics and other clubs, and is expected to get a max deal, so he may land elsewhere. If Horford does leave Atlanta, Howard at least represents a viable replacement at center for the Hawks.
Photo courtesy of USA Today Sports Images.