JULY 7: The Hawks have sent out a formal press release announcing their new deal with Bazemore.
JULY 1: The Hawks have secured one of their own free agents, according to Michael Scotto of The Associated Press, who reports (via Twitter) that Atlanta and Kent Bazemore have agreed to terms on a four-year, $70MM contract, which will feature a player option on the final year.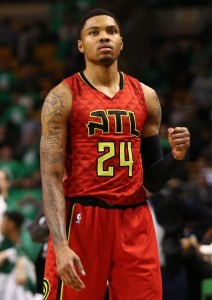 It's the second big-money deal the team has struck today — the Hawks also reached an agreement with Dwight Howard on a three-year contract worth $70.5MM. The two deals for Bazemore and Howard will almost certainly take Atlanta out of the running for Al Horford, meaning he'll likely find a new home within the next few days.
Bazemore, who went undrafted out of Old Dominion, emerged as a reliable three-and-D player for the Hawks last season, averaging 11.6 points, 5.1 rebounds, and 1.3 steals per game, while shooting 35.7% from beyond the arc.
We heard early in free agency that it might take an offer in the $19-20MM-per-year range to land Bazemore, and the Hawks will ultimately pay a little less than that — his reported deal averages $17.5MM annually. According to David Aldridge of NBA.com (via Twitter), Bazemore turned down four-year, $72MM offers from the Lakers and Rockets to return to Atlanta.
In addition to Los Angeles and Houston, the Bucks, Grizzlies, Nets, and Pelicans were among the rival suitors for Bazemore, and were in touch with him before he made his decision, according to Shams Charania of The Vertical. There had been speculation that Bazemore would take a few days before deciding on his team — instead, he agreed to a contract with the Hawks on the day of his 27th birthday. Not a bad gift.
The value of Bazemore's new deal is right in line with the four-year, $70MM deal agreed to by Evan Turner and the Trail Blazers earlier today.
Photo courtesy of USA Today Sports Images.