JULY 7: The Hornets have formally confirmed in a press release that they've acquired Belinelli from the Kings in exchange for the rights to Malachi Richardson, the No. 22 overall pick in this year's draft.
JUNE 23: The Hornets and Kings have agreed to a trade that will send the No. 22 overall pick to Sacramento in exchange for veteran shooting guard Marco Belinelli, reports Adrian Wojnarowski of The Vertical (Twitter links). The deal that will make Belinelli a Hornet can't be processed until July, but Charlotte will be selecting a player for the Kings at No. 22 tonight.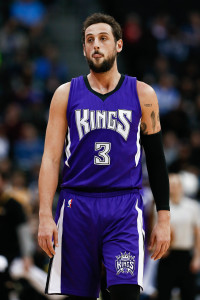 The deal comes as a bit of a surprise, since Belinelli hasn't exactly been at his best during the last two seasons in Sacramento. In 2015/16, he scored in double digits for the team, but shot just .386 from the field and .306 from three-point range. Both marks were the worst of his nine-year NBA career.
Still, the Hornets are apparently confident that Belinelli, a 37.9% career three-point shooter, can bounce back and give them more positive value than the No. 22 overall pick could have. The 30-year-old is under contract for two more seasons, with a salary of $6.33MM in 2016/17 and $6.606 the following year. If he comes back strong next year, that's not a bad price for a bench scorer and outside shooter.
The Hornets only currently have $46MM in guaranteed salary on the books for next season, so they should have plenty of room to absorb Belinelli's salary under the cap in July. The move also gives the team some insurance in case Courtney Lee signs elsewhere as a free agent.
As for the Kings, they'll clear a little salary and are now armed with two first-round picks. We heard earlier this evening that Sacramento is exploring deals involving the No. 8 pick. Acquiring a second first-rounder could give the club a little more ammunition to attempt to move up, and would still allow the team to add a first-round rookie tonight if it decides to move that No. 8 pick for future selections.
Photo courtesy of USA Today Sports Images.