JULY 14, 12:21pm: The Knicks have officially re-signed Vujacic, the team announced today (via Twitter).
JULY 12, 10:12am: The Knicks are bringing back one of their rotation players from last season, according to Marc Berman of The New York Post, who reports (via Twitter) that Sasha Vujacic has agreed to terms on a new deal with the team. It will be a one-year, minimum-salary contract for Vujacic, per Berman.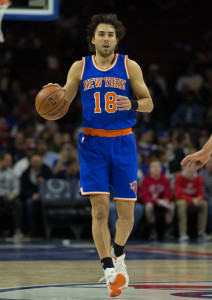 After spending several years overseas, having appeared in just two NBA games in a four-season span from 2011 to 2015, Vujacic returned stateside last year and joined the Knicks. Appearing in 61 games (25 starts) during the 2015/16 season, the 32-year-old guard posted averages of 4.9 PPG, 2.4 RPG, and 1.4 APG, to go along with a shooting line of .383/.364/.821.
Although his numbers weren't great last season, Vujacic also wasn't getting significant playing time, averaging less than 15 minutes per game. With a handful of incoming players added to the roster this offseason, Vujacic may start the 2016/17 campaign in a role that's even more reduced.
Of course, Derrick Rose will be one player ahead of him on the Knicks' depth chart, and Rose hasn't played more than 66 games in a season since 2010/11, so there could be some opportunities for Vujacic to get increased minutes. Brandon Jennings will also be in the mix at point guard, while Courtney Lee , Justin Holiday, and Mindaugas Kuzminskas are other backcourt options for the Knicks.
[RELATED: Knicks' roster and depth chart at RosterResource.com]
The Knicks used up their cap space on deals for Joakim Noah, Lee, and Jennings, then signed Kuzminskas using their mid-level exception. As such, the team now only has room for minimum-salary contracts, which limited the amount New York was able to offer Vujacic.
Photo courtesy of USA Today Sports Images.