Less than a month after opting out of his previous contract with the Pelicans, Alonzo Gee is on the verge of signing a new deal with the team. Shams Charania of The Vertical reports (via Twitter) that Gee and the Pelicans are finalizing a one-year contract, aiming to complete it within the next day or so.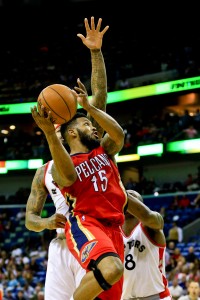 Gee, 29, appeared in 73 games for New Orleans last season, starting 38 of those contests. His numbers were modest, as he averaged just 4.5 PPG and 3.4 RPG. However, he continued to provide value on defense and was efficient when given an opportunity on the offensive end (.518 FG%). Gee's season ended a little early due to a ruptured right quadriceps muscle.
Last month, Gee was one of several players around the NBA to decline his player option in order to test the open market. The Alabama product would have earned about $1.379MM in 2016/17 if he had exercised his option, which was just a little more than his minimum salary. So unless his new deal is for the minimum, or it's not fully guaranteed, it was probably the right call for him to opt out.
[RELATED: Pelicans' free agent agreements, via our Free Agent Tracker]
The Pelicans have yet to finalize the free agent contracts they've agreed to so far this month, so it remains to be seen how exactly they'll manage their cap situation. Even after factoring in the reported terms on deals for Solomon Hill, E'Twaun Moore, and other free agents, the team does appear to have a modest chunk of cap room left over, so we'll see how much – if any – of that space is used for Gee.
Photo courtesy of USA Today Sports Images.