JULY 14, 10:45am: Nearly two weeks after agreeing to terms with him, the Raptors have officially signed DeRozan, the team announced today (Twitter link).
JULY 1, 1:14pm: According to Charania, DeRozan's five-year contract will be worth about $139MM. A maximum-salary, five-year pact for DeRozan is expected to be worth in excess of $150MM, so it doesn't sound like this will be a max deal.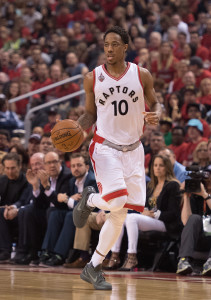 1:11am: DeRozan's new deal with the Raptors will be for five years, league sources tell Shams Charania of The Vertical (Twitter link). Amick notes (via Twitter) that the team has "other moving pieces" to deal with, so the salary figures for DeRozan's new contract aren't yet known. Bismack Biyombo's free agency is likely the primary "moving piece" that the Raptors are trying to address.
1:05am: After a meeting with the Raptors in Los Angeles tonight, DeMar DeRozan has decided to re-sign with Toronto, according to Sam Amick of USA Today (Twitter link). The exact terms of the agreement haven't yet been hammered out, and the two sides can't make it official until next week, but it appears DeRozan won't be joining a new team this summer.
DeRozan, who turns 27 in August, made his second All-Star game this past season while averaging a career-high 23.5 points, 4.5 rebounds and 4.0 assists. The Compton native improved his long-distance shooting to a respectable 33.8% from beyond the arc, and averaged 20.9 points, 4.2 rebounds and 2.7 assists in the postseason as Toronto reached the Eastern Conference Finals before falling to the Cavaliers.
DeRozan opted out of his contract in June, turning down a player option that would have paid him just over $10MM. While the Heat, Mavericks, Sixers, and Lakers were among the teams with reported interest in DeRozan, who received inquiries tonight from Philadelphia and L.A., he was always viewed as likely to return to Toronto, where he has spent his entire seven-year career to date.
DeRozan ranked seventh in our list of this year's top 50 free agents.
Photo courtesy of USA Today Sports Images.