TUESDAY, 11:42am: According to ESPN's Marc Stein (via Twitter), the Spurs have officially waived Duncan for salary-cap purposes. The veteran big man had been on the team's books for $6,393,750 this year, so assuming San Antonio stretched his salary, that figure will now be $2,131,250 annually over the next three seasons.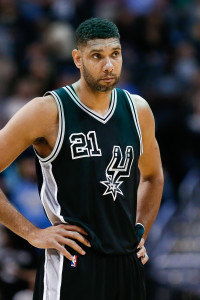 MONDAY, 9:16am: For many basketball fans around the world, it is extremely difficult to imagine the NBA without Tim Duncan a part of it. But that's the reality we face with the surefire Hall-of-Famer officially announcing his retirement today via the team's website. This marks the conclusion of one of the most impressive professional careers the league has seen.
Since drafting Duncan with the No. 1 overall pick in the 1997 NBA Draft, San Antonio won five championships and posted a 1,072-438 regular season record, good for a .710 winning percentage, which is the best 19-year stretch in NBA history and was the best in all of the NBA, NFL, NHL and MLB over that span.
Duncan totaled 15 All-NBA Team selections, which is tied for most all-time, and 15 NBA All-Defensive Team honors, the most all-time, earning both honors in the same season 15 times, the most in league history. The 1998 Rookie of the Year was named NBA MVP twice (2002, 2003) and NBA Finals MVP three times (1999, 2003 and 2005), per the team's release.
The 40-year-old had opted in for 2016/17, but was reportedly on the fence about continuing his career. Duncan saw his production decline this past season, as he averaged a career-low 8.6 points, 7.3 rebounds, 2.7 assists and 1.3 blocks in 25.2 minutes per contest over 61 regular-season appearances. He also shot just 48.8% from the floor, his lowest mark in 10 years. Duncan finishes his career with marks of 19.0 points, 10.8 rebounds, 3.0 assists and 2.2 blocks per contest. He owns a career shooting line of .506/.179/.696.
Photo courtesy of USA Today Sports Images.