AUGUST 2nd, 4:44pm: The signing is official, the team announced. "Miles is an athletic big man that gives us added depth on the frontline," GM John Hammond said. "He does a really good job as a finisher around the basket and also as a rim protector on the defensive end. We're very happy to have him back with the Bucks."
JULY 18th, 11:11am: The Bucks have agreed to terms with restricted free agent Miles Plumlee on a four-year deal that will pay him $50MM+, according to multiple reports. Charles F. Gardner of The Milwaukee Journal Sentinel, who first broke word of the agreement, tweets that it's worth $50MM, while ESPN's Marc Stein says (via Twitter) it's worth $52MM. Michael Scotto of The Associated Press adds (via Twitter) that there are no options, and all four years are guaranteed.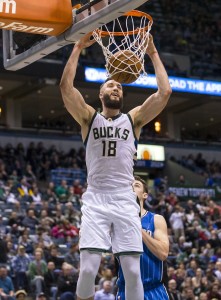 Plumlee, who turns 28 in September, has played for three teams since entering the NBA in 2012. After playing for Indiana in his rookie season, Plumlee was sent to Phoenix as part of a trade package for Luis Scola. He was later moved to the Bucks in the three-way trade at the 2015 deadline that saw Brandon Knight land in Phoenix and Michael Carter-Williams join Plumlee in Milwaukee.
After averaging nearly 20 minutes per game in Phoenix, Plumlee saw his role reduced in Milwaukee. In his first full season with the Bucks this past year, he played 14.3 minutes per contest, averaging 5.1 PPG, 3.8 RPG, and 0.8 BPG. Those numbers are modest, but the Bucks apparently liked what they saw enough to make him a restricted free agent, then to commit big money to him on a four-year deal.
[RELATED: Milwaukee Bucks depth chart at RosterResource.com]
With Plumlee locked up, the Bucks are now on the hook for more than $40MM combined to him, John Henson, and Greg Monroe for the 2016/17 season. Even with a Giannis Antetokounmpo extension potentially coming this fall, or next summer, the Bucks have the financial flexibility to afford all three deals — Henson's salary declines annually, and Greg Monroe can opt out of his contract in 2017.
Still, we've heard throughout the summer that the Bucks have been exploring the trade market in an attempt to find a viable deal for Monroe. With Henson and Plumlee now locked up through the 2019/20 season, it seems even more clear that Monroe isn't a part of the team's long-term plans.
As our Free Agent Tracker shows, Plumlee is the 26th free agent this summer to land a new contract with a total value of at least $50MM.
Photo courtesy of USA Today Sports Images.