AUGUST 3: The Cavaliers have issued a press release formally announcing that they've re-signed Jones.
"We're very happy to have James back with the Cavaliers," GM David Griffin said in a statement. "He is a Champion in every sense of the word and his leadership and professionalism over the last two years have translated with our team in many different ways that have helped us reach our goals. 'Champ' delivers a clear reflection of what success at the highest level should embody and his contributions and commitment to our team are something we need and appreciate greatly."
AUGUST 2: The Cavaliers have agreed to terms on a new deal for their veteran forward who has appeared in six consecutive NBA Finals — no, not LeBron James. According to Shams Charania of The Vertical (Twitter link), it's James Jones who is in agreement with the Cavs, striking a one-year, $1.55MM deal to return to the team.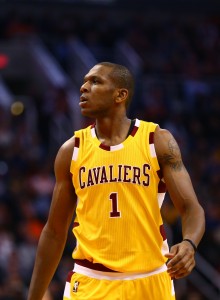 Jones, who will turn 36 this fall, appeared in 48 regular-season contests for the Cavaliers last season, averaging 9.6 MPG and chipping in 3.7 PPG, 1.0 RPG, and a .394 3PT%. The three-time NBA champion didn't see much action in the postseason, and doesn't have a huge role in Cleveland, but his locker-room presence and veteran leadership is valued by the franchise and by James, his longtime teammate.
Based on the Cavaliers' cap limitations and Charania's report, Jones will almost certainly receive a minimum-salary contract from the club, which will be worth $1,551,659 for a player with his experience. Because it's a one-year deal, the minimum salary exception will allow the Cavs to assume a cap hit of just $980,431, while the NBA foots the rest of the bill.
With Jones locked up, the Cavs will continue to work on securing their other free agents, such as James and J.R. Smith.
Photo courtesy of USA Today Sports Images.