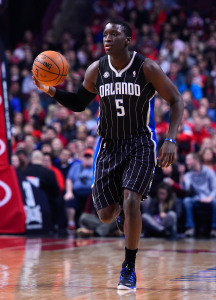 The Thunder won't get to watch Victor Oladipo as part of their team for very long before having to make an important decision. The 6-4 combo guard, who was acquired from the Magic in a draft-day trade, will be entering his fourth NBA season this fall, making him eligible for a rookie scale extension.
The extension deadline is October 31st, and Oklahoma City has just three regular season games before that date arrives. So the Thunder front office will have to base its decision largely on the three productive seasons Oladipo had in Orlando before the deal was made.
After being taken second overall in the 2013 draft, Oladipo developed quickly with the Magic, playing 80 games as a rookie and starting 44. His best season came in 2014/15, when he started 71 of the 72 games he appeared in and averaged 17.9 points, 4.2 rebounds and 4.1 assists per night. His scoring average dipped to 16.0 last season and he suffered two concussions and battled a variety of other injuries, starting just 52 of the 72 games he played.
But the Thunder saw enough that they liked in Oladipo to give up Serge Ibaka, one of the cornerstones of their recent success, to add him to their roster, along with veteran power forward  Ersan Ilyasova and the rights to rookie big man Domantas Sabonis. Oklahoma City GM Sam Presti explained the move at a press conference on draft night, saying the Thunder will benefit from Oladipo's competitive attitude.
"I think the number one thing with Victor is his make-up," Presti said about his new guard. "… He is tough-minded, he's competitive, he's selfless. He is a guy that we really feel like not only brings things on the floor for us, but I think he's going to be a real add to our environment, our culture on an everyday basis."
Presti also said he was intrigued by Oladipo's ability to play multiple positions, noting that his flexibility will give coach Billy Donovan more options when it comes to designing lineups.
But if the Thunder hope to keep Oladipo as a long-term backcourt partner for Russell Westbrook, they will need to make a significant salary commitment, whether it comes by October 31st or next offseason. Oladipo has made no secret about his desire for a full maximum extension, writes Erik Horne of The Oklahoman.
The former Indiana Hoosiers star was paid roughly $4.7MM, $4.9MM and $5.1MM during his first three years in the NBA and will receive a little more than $6.5MM next season. A maximum deal would bring his salary close to $24MM for 2017/18, with annual raises as high as 7.5% to follow.
Oklahoma City has a recent history of not giving rookie extensions to guards who were eligible to receive them. In 2014/15, the Thunder couldn't reach a deal with combo guard Reggie Jackson and wound up trading him to the Pistons. Last year, OKC let the extension deadline pass for shooting guard Dion Waiters. The Thunder pulled their qualifying offer to Waiters last month, freeing him up to sign with the Heat.
But the Thunder front office is expected to try much harder to reach a deal with Oladipo, considering the price they paid to acquire him. Giving up Ibaka, who helped make Oklahoma City one of the league's best teams during his seven seasons with the franchise, suggests that Oladipo will be an important part of the team's long-term plans.
If the sides can't reach an agreement before Halloween, Oladipo will become a restricted free agent after the season, joining center Steven Adams and shooting guard Andre Roberson in that category. With Adams coming off a breakthrough season and also likely to be in the market for a max or near-max deal next summer, it may be in the Thunder's best interests to reach a deal with Oladipo before the deadline arrives.
The contract situations of Oladipo and Adams led the Thunder to be conservative in free agency this offseason, once Kevin Durant announced that he was leaving for Golden State. Other than re-signing and extending Westbrook, OKC's only significant offseason moves were to bring back veteran Anthony Morrow at $3.4MM and sign Spanish star Alex Abrines for nearly $6MM.
The Thunder are in a unique situation as they address their short- and long-term future. The loss of Durant means they aren't an elite NBA power any more, but the deal with Westbrook should keep them in playoff contention and may give them a shot at hosting a first-round series. Oladipo, at age 24, and Adams, at 23, are expected to be part of the core in Oklahoma City as the team tries to establish a new identity. Over the next year, it will be in the Thunder's best interests to keep them both happy and lock them down with new contracts for as long as possible.
Photo courtesy of Mike DiNovo / USA TODAY Sports Images